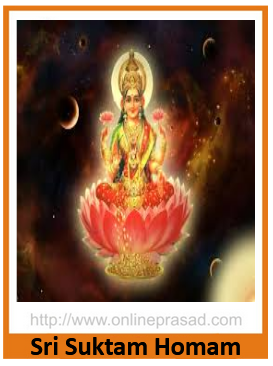 Sri Suktam Homam
Sri Suktam refers to Śrī as Lakṣmī, the Hindu goddess of wealth, prosperity and fertility and is particularly associated with Viṣṇu as his wife. She has been described as glorious, ornamented, royal, lustrous as gold, and radiant as fire, moon and the sun. She is addressed as the bestow-er of fame, bounty and abundance in the form of gold, cattle, horses and food.
Thus performing Homam of Sri Suktam brings you all happiness and abundance in the above mentioned form.
We can perform the "Sri Suktam Homam" for you. Book Now! 
---
Recommended for you
---