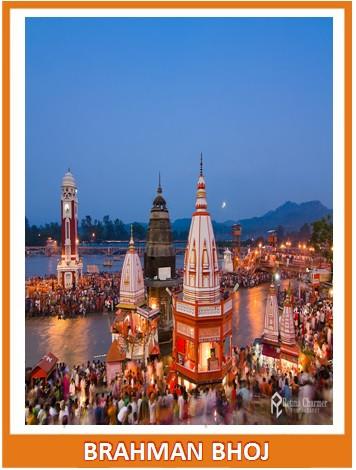 Mal Maas Special Couple Brahman Bhoj at Haridwar
We will feed a husband and wife Brahmin Couple on your behalf
Why Brahmin Bhoj?
Brahman Bhoj is of immense importance in Hinduism and is a ritual performed for departed souls of ancestors. Brahman bhoj is done to satisfy the desires of the souls of our ancestors and let them rest in peace.
Brahman Bhoj rituals help cleanse all the sins of our forefathers and liberates their souls. Also, the one performing this ritual is said to gain Punya and is liberated from bad Karmas of past and present life. Brahman Bhoj rituals benefit our ancestors (of 14 generations) even whose death dates have been forgotten. Also, the one conducting Brahman Bhoj is said to gain Moksha!
Feed Brahmins in the sacred land of Haridwar, on the banks of ganga river and get blessed by your Forefathers.
---
Recommended for you
---