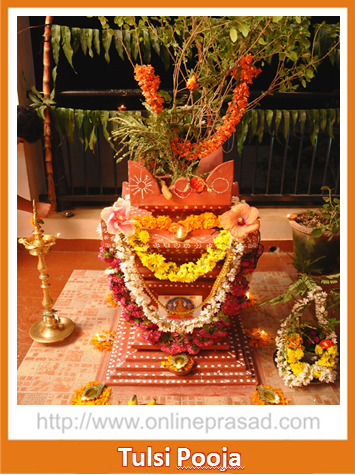 Tulsi Puja
Tulsi Pooja

Tulsi is a plant which is quite common in Hindu homes and it has great religious significance. It is a special plant which has served mankind with its herbal qualities for thousands of years by healing ailments and curing infections. The ritualistic worship of Tulsi is known as Tulsi Pooja or Tulsi Vivah. During the occasion of Tulsi Pooja, the plant is decorated elaborately and offerings are made to it. This occasion is also known as Tulsi Vivah as the plant is married to a Shaligram (a symbol of Lord Vishnu) on this day.

Importance Of Tulsi Pooja
According to legend, Tulsi is an earthly manifestation of Maa Mahalakshmi who represents the qualities of love, dedication, virtuousness and sorrow of women. Tulsi Pooja is thus of special significance to Hindu women of all ages. This is a pooja that greatly benefits various aspects of a person's life, by bringing harmony to married and family life, auspicious energies into one's home and preventing diseases and misfortune. Performing Tulsi Pooja can even absolve all a persons's sins, both of this life and the past and nullify the effects of Vastu Dosh. The act of Tulsi Pooja always brings the grace of Lord Vishnu to devotees, as Tulsi is a consort of the Lord. The great importance of Tulsi Pooja has been highlighted time and again in several Hindu scriptures.
Advantages of Tulsi Pooja
1. Brings get prosperity to marital life

2. Improves communication between family members.

3. Prevents one from the effects of diseases and infections.

4. Brings positive vibrations to one's home.
---
Recommended for you
---