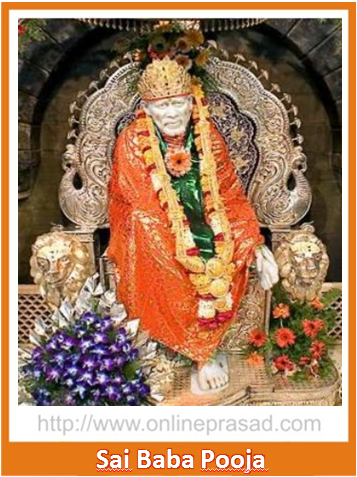 Sai Puja
Saibaba Pooja

Shirdi Sai Baba was one of the most influential religious teachers in India, who had disciples from all faiths. Millions of people visit Shirdi each year to seek the auspicious blessings of Sai Baba, which transforms their lives for the better. Sai Baba is thus considered to be of prime importance as a Guru or divine teacher, whose lessons showed everyone how to live an ideal, moral life. Sai Baba also taught about the importance of Godly devotion. Performing the worship of Saibaba is particularly beneficial for the lives of devotees.


Importance Of Saibaba Pooja

Saibaba Pooja is a ceremony aimed at gaining the divine grace of Sai Baba for the improvement of one's life. Devotees who perform this pooja are enlightened by the power of Sai Baba's blessings. Their lives improve dynamically and they can experience great peace of mind. Sai Baba helps his devotees face their fears and go past the various hurdles of life. It is believed that Sai Baba blesses each devotee uniquely and this has a profound effect on a personal level. Baba's spirit is ever-present within the hearts of those who seek him.
Advantages Of Saibaba Pooja

1. Gains the auspicious blessings of Saibaba for the betterment of one's life.

2. Helps devotees to face their fears and become successful in life.

3. Helps enlighten the devotee's soul and shows them the path towards salvation.
---
Recommended for you
---