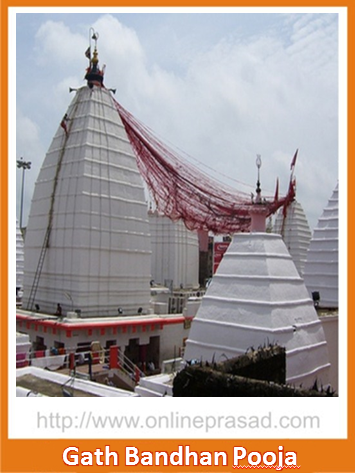 Gath Bandhan Puja
About Baidyanath Dham

Baidyanath Dham at Deoghar in Jharkhand is a very special temple dedicated to Lord Shiva. Each year it draws millions of devotees, who come to seek the powerful blessings of the Baidyanath Lingam of Lord Shiva. Here are some intriguing facts about the Baidyanath Dham Jyotirlinga. Some legends say that the lingam of Lord Shiva here laid abandoned after Ravana's death and it was found and deified again by a hunter named Baiju.
Devotees come here to pour Gangajal to soothe Lord Shiva's throat, which he injured while drinking poison after the Samudra Manthan episode of Indian mythology. Gangajal, milk and panchamrit abhishekam appeases the Lord and keeps him content. According to Hindu mythology, Goddess Sati's heart had fallen here after Vishnu had cut her body off into 52 pices; when Shiva was carrying her all across the land.

Maa Parvati Temple

There is another important temple beside the Baidyanath temple known as the Mata Parvati temple. It is believed that this temple is situated at the very spot where the heart of Maa Sati fell after the incident of Daksha Yagna. It is quite a significant shrine of Mata and its close location to the Baidyanath Dham Temple is a sign of unity between Lord Shiva and Maa Shakti.

Gath Bandhan – A Special Ritual

During the holy month of Shravan, hundreds of red threads are tied to connect the domes of the Baidyanath Dham Temple and the Maa Parvati temple. This ceremony is known as the Gath Bandhan and can be performed by devotees. Devotees offer the threads which are tied by a person who climbs to the top of the Baidyanath temple dome (Panchsul).

Pandas chant slokas and then Bhandaris (members of a local tribal community) climb the domes of the temples and tie the sacred threads. This is a powerful ritual which has great benefits for the lives of devotees.

Benefits of Gath Bandhan

1. Devotee couples can gain a happy and prosperous married life.

2. Familial harmony increases significantly.

3. This ceremony gives the devotees protection from serious diseases and ailments.

4. Young women who are looking for the ideal life partner can gain so by performing this ritual.

5. It reduces the negative effects of planets such as Shani on one's life.

Charges Include -

1. Dakshina for priests

2. Dakshina for Bhandaris who perform the Gath Bandhan

3. Cost of offering the sacred thread.

4. Cost of performing pooja in the devotee's name.


---
Recommended for you
---