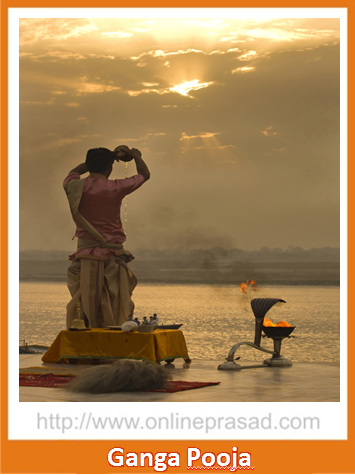 Ganga Puja
Ganga Pooja

The Ganga is one of the seven holy rivers of Hinduism and perhaps the most important among them. The river Ganga is an earthly manifestation of Devi Ganga, who is the sister of Maa Parvati. She had come down to earth on the request of King Bhagirath and descended through the head of Lord Shiva. Ganga is tremendously sacred to Hindus all across the world and millions take dips in her waters everyday to cleanse their souls.

The Importance Of Ganga Pooja

The worship of Maa Ganga is one of the most important rituals in Hinduism. Each evening, thousands of devotees gather at the banks of the Ganga at Haridwar and Rishikesh to witness the spectacle known as the 'Ganga Aarti', which pays homage to the greatness of this river. Bathing in or offering worship to Devi Ganga can purify the souls of the devotees. It can absolve their sins, turn them into good, virtuous individuals and ultimately help them liberation of the soul (Moksha), in the afterlife. The waters of the Ganges arte said to be magical and can even cure diseases, ailments and mental illness.
Advantages Of Ganga Pooja

1. It purifies the souls of devotees.

2. Cures diseases and ailments.

3. Washes away the sins of devotees and gives peace to the souls of their ancestors.

4. Helps one attain Moksha or liberation of the soul.
---
Recommended for you
---