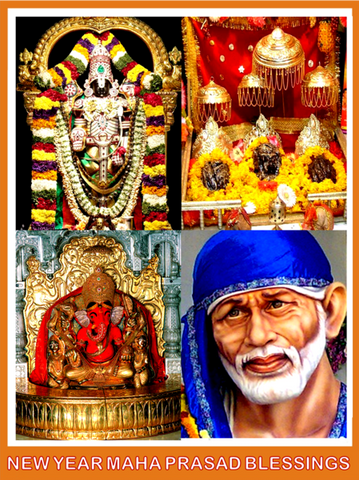 Diwali Special Prasad - Blessings from many temples!
ll We Wish You A Very Happy Diwali ll
Siddhivinayak +

 Maa Vaishno Devi + Shirdi

Prasad Blessings for you & your family on Diwali!
We will offer prasad on behalf of you at top Temples of Siddhivianayak Ganpati, Maa Vaishno Devi,

Mahalakshmi Mumbai

 & Shirdi Sai Baba on the day of Diwali.

We will send the prasad to you at your address.
You can customize this offering by choosing any temples from the list below - 
Siddhi Vinayak
Maa Vaishno Devi
Shirdi Sai Baba
Maha Laxmi
Palani Murugan
Vrindavan Thakurji Banke Bihari
Kalighat Kolkata
Dakshineshwar Kali
Let us know the names of temples in notes on the next page. Or, you can go with the default offering of Siddhivinayak,Maa Vaishno Devi, Mahalakshmi Mumbai & Shirdi Sai Baba.. 
Welcome new year with good spirit. Its a perfect occasion for you to feel the presence of the deities around them and to seek blessings for a great fortune & success.
---
Recommended for you
---