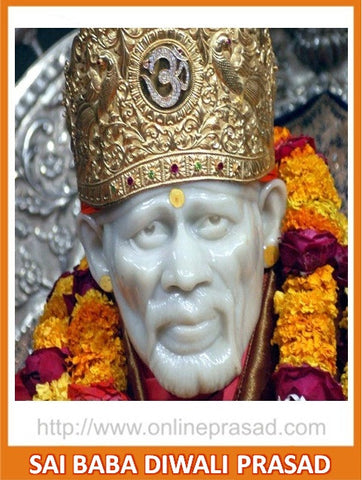 Diwali Special - Sai Baba Prasad + Idol + Poster
Celebrate Diwali with Sai Baba's Blessings!
 On the occasion of Diwali and new year, Get Shirdi Sai Baba's Divine Prasad & Sai Satcharitra book
Make your offering to Shirdi Sai Nath and get Prasad blessings at home! 
You will receive - 
Udi Prasadam 
Dry sweets
Dry fruits
Sacred dhaga
Pendant
Beautiful picture of Sai Baba for your pooja mandir!
Book now to get Sai Satcharitra book along with Prasad. 
About
The real name of Sai Baba is unknown and the name "Sai" was given to him on his arrival at Shirdi. A local temple priest at Shirdi known as Mahalsapati recognized him as a Muslim saint and used to greet him with the words 'Ya Sai!', which means 'Welcome Sai!'.  Baba always taught to follow the morals of  love, forgiveness, help, charity, contentment, inner peace, and devotion to God and guru.The teachings of Sai Baba are a combined elements of Islam and Hinduism. He gave the name of "Dwarakamai," a Hindu name to the mosque where used to lived in. The well known epigram of Sai Baba, "Sabka Malik Ek" , meaning "One God Governs all", is associated with the Sufism and Islam. He practiced both Hindu and muslim rituals and traditions and taught the same to all. After Sai Baba took Samadhi, his body was buried at Shirdi. 
---
Recommended for you
---