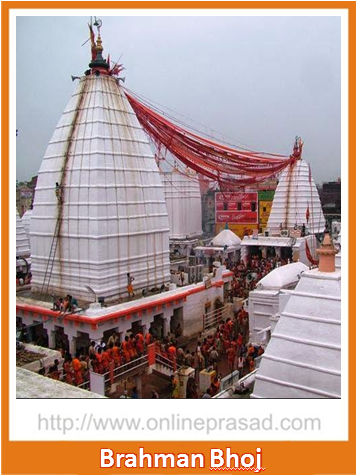 Brahman Bhoj-Babadham
                                      Brahman Bhoj – Baba Dham, Deoghar
Top 5 benefits of Brahman Bhoj
Satisfies the desires of our ancestors and rests them in peace.
Cleanses all the sins of our forefathers and liberates their souls.
Gives Punya and liberates from bad Karmas of past and present life.
Benefits our ancestors (of 14 generations) even whose death dates have been forgotten.
For attaining Moksha.
What is Brahman Bhoj ?
Brahm (for brahim) bhoj (for feast) is a unique rituals of feeding Brahmins. It is considered highly auspicious on
Child's birth
Upanayana(the sacred thread ceremony)
Pitrupaksh
Marriage
Death.
The purpose of Brahm-bhoj is to get their blessings, gain punya and satisfy the souls of forefathers. 
Brahman Bhoj at Baba Dham
Baidyanath Dham, also known as Baba Dham, is one of the most famous Jyotirlinga temples in the world. It is a special pilgrimage which attracts millions of pilgrims each year, who come to offer worship and seek Lord Shiva's special blessings here.

Significance Of Baba Dham

According to legend, the temple was built where the heart of Sati fell after the incident of Daksha Yagna. Shiva roamed around the land with the charred body of Sati. Vishnu then cut it up into 52 pieces which fell at different locations. It is said that when Vishnu did so, Devi's heart fell at the location of Baba Dham.

Baidyanath Dham is famous for its 'Sharavvan Mela' that is orgainsed in the month of July-August.  During the fair, around 7-8 million devotees collects the holy ganges water from Sultangunj and visit the temple to offer it to the deity.


Why is Brahman Bhoj Done ?
Story of Pitrupaksh
Legends say Karna, son of Kunti was a philanthropist. He never denied help to anyone who approached him. He had donated a lot of wealth and had indulged in charity but had not donated food ever. Karna left earth after his death and reached heaven. The great charity which he had done on Earth was returned to him manifold in heaven. But it was all material wealth and there was no food. He then realized that although he had done all kinds of charities, he did not donate food. 
He prayed to the God of Death, who sent him back to earth for 14 days, to make up for this deficiency. Karna fed the Brahmins and poor and offered oblations of water during the 14 days, which is observed in the Mahalaya Paksha or commonly called Pitrupaksha . On his return to Heaven, he had plenty of food and it has been anticipated that offerings made during the period of Pitru Paksha benefits all the departed souls, whether they are connected to you or not.
ll Om Bhur Bhuvah Svah
Tat Savitur Varennyam 
Bhargo Devasya Dhiimahi
Dhiyo Yo Nah Pracodayaat ll
Brahmins are associated with the performance of all the Vedic rituals. It is said that Brahmins have taken birth from the mouth of Lord Brahma. They are highly knowledgeable about Vedic texts. 
It is sai that that unless a Brahmin prays to the Gods through chants, God cannot come and attend the puja rituals of men. Hence, donating or feeding Brahmins is considered very fruitful.
 
---
Recommended for you
---