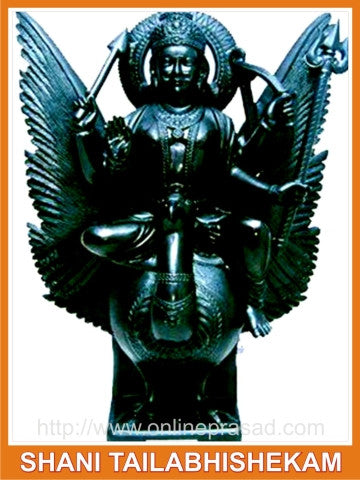 Shani Puja and Tailabhishekam
Top 5 Benefits of Shani Dev Puja and Tailabhishekam on Shani Jayanti
Long life for you and your family

Shani dosh nivarana

Bad karma riddance

Prosperity in life

Happiness in married life
What is Shani Jayanti?
Shani Jayanti is marked as birth anniversary of Lord Shani. Shani Jayanti is also called Shani Amavasya. Lord Shani is son of Lord Suryadev and rules planet Saturn and weekday Saturday.

Shani Jayanti is observed on Amavasya Tithi during Jyeshtha month according to North Indian Purnimant calendar. According to South Indian Amavasyant calendar Shani Jayanti falls on Amavasya Tithi during Vaishakha month. It is name of Lunar month which differs and in both type of calendars Shani Jayanti falls on the same day.
People worship Lord Shani, who is the supreme God in one's fortune, on the day of Shani Jayanti. Shani is called as Sanaischara, Shanishwara, Chaya Putra etc. On this ospicious day we are organizing a megha event. We will do Shani Dev Abhishekam and Shani Shanti Yagya. If you would like to Remove Shani Dosh, evil of Shani Sadesati, MahaDasha etc then you must not drop this opportunity.
What is Shani Dev Tailabhishekam Puja?
Shani Dev Tailabhishekam includes offering of Oil on your behalf  at the Shree Navgrah Mandir Khargone Madhya Pradesh
What do you get?
We will be delivering the snaps of the yagya or pooja ceremony through the email.
Note :
The photographs of the ceremony usually gets delivered in 5-7 working days from the date of pooja by electronic mail.

Please do mention the Sankalpa or the wish with which you want to get the pooja performed.
---
Recommended for you
---