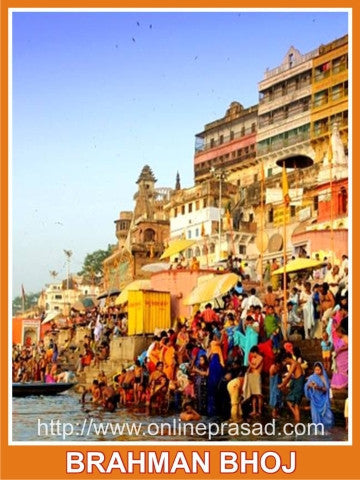 Makar Sankranti : Brahman Bhoj at top temples
Brahman Bhoj

Brahman (for brahmin) bhoj (for feast) is a unique rituals of feeding Brahmins. It is considered highly auspicious. Brahman Bhoj is practiced on diverse occasions such as child's birth, upanayana(the sacred thread ceremony, pitrupaksh, marriage and even Death.
The purpose of Brahm-bhoj is to get their blessings, gain punya and satisfy the souls of forefathers. 
Feed Brahmins at the holy land and get blessed by your Forefathers. 
To send your prayers and feed brahmins click on the Buy Now button given above. You could choose the date and place you would like to conduct the Brahman Bhoj, we will do it on behalf of you and send you the report.
You can choose one of more of from the following holy locations for Pitru Paksha Brahman Bhoj for your ancestors' Shradh - 
Ayodhya
Bodh Gaya
Dwarka
Haridwar
Kashi
Prayag Allahabad
Puri
Rameshwaram
Brahmins are associated with the performance of all the Vedic rituals. It is said that Brahmins have taken birth from the mouth of Lord Brahma. They are highly knowledgeable about Vedic texts. 
It is said that unless a Brahmin prays to the Gods through chants, God cannot come and attend the puja rituals of men. Hence, donating or feeding Brahmins is considered very fruitful.
---
Recommended for you
---