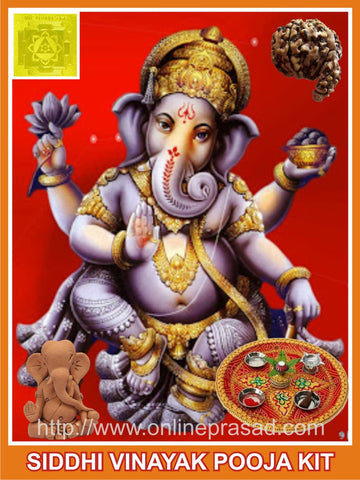 Siddhi Vinayak Diwali Special Pooja Kit
ll Siddhivinayak Namo Namah ll
Siddhi Vinayak Diwali Special Pooja Kit For Your Home and Office
We wish you a very happy Diwali! 
With this beautiful Siddhi Vinayak Pooja Kit organise Pooja at your Home on Diwai!  Worship Lord Ganesha to remove all obstacles from your life and bring you success & good fortune.
With this auspicious Siddhi Vinayak Pooja Kit, you get -
Kumkum Kalsash

 Pooja Thali 

 

Laxmi-Ganesh Pure Silver Coin
Laxmi- Ganesha gold-plated Idol 

 

Very powerful 

Ganesha Rudraksha

 with silver capping

Sacred Ganesha pocket 

Yantra

 

and surprise pooja items for every Ganesha devotee!
Diwali is the annual festival celebrated by lighting lamps to drive away evil spirits. It is considered to be a very auspicious day to worship Lord Ganesha and Ma Mahalakshmi. Its a perfect occasion for Ganesha and Maha Laxmi devotees to feel the presence of the deities around them and to seek  blessings for a great fortune & success. Diwali this year falls on 3rd November, 2013.
Lord Ganesha is vigneshwara, one who removes all the obstacles from your life and who is worshipped before starting any new venture or buying anything new.
This year, worship Ganpati and Ma Mahallakshmi with Siddhivinayak Pooja Kit and attain their divine blessings for wisdom and good fortune. Get this Siddhivinayak Pooja Kit home today. Click on Book Now button Now!
Ganesha Rudraksha is a unique bead that has a trunk like elevation (resembling the trunck of Lord Ganesha). The wearer of this Ganesha Rudraksha achieves excellence in all phases of his life and he continues to get the guidance & blessings of Lord Ganesha. 
Ganesha Pocket Yantra is a powerful yantra emanating positive energy for success and fighting obstacles. This can be kept in your pocket, purse, wallet and cashboxes. With this Yantra, the blessings & guidance of Ganesh Ji will be always with you.
With this you also get a Pooja Thali with Kumkum,Kalash and a pure silver Laxmi-Ganesh Silver Coin. Perfom the pooja along with the vidhi we send with the kit and dab the Kumkum on your forehead. Retain the pooja thali for poojas in future.
Also you get a beautiful idol of Laxmi-Ganesha which you should install and worship on Diwali.
By performing pooja ritual for Lord Ganesha and Ma Laxmi with Siddhivinayak Pooja Kit, all hindrances from your life will be removed. May Lord Ganesha always be with you! 
Note: We give you 100% original Ganesha Rudraksaha & Ganesha Pocket Size Yantra.
In case you are not satisfied with the product you may return it to us within 45 days of purchase. No questions will be asked. We will refund your return shipping amount too.
---