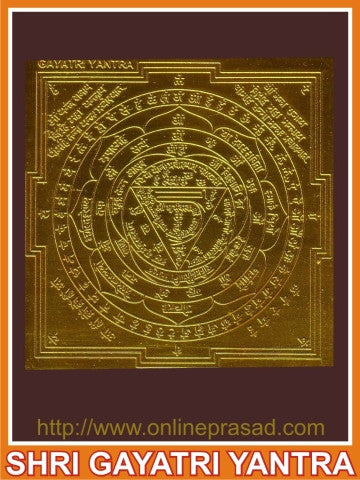 Shri Gayatri Yantra
 || Om Bhur Bhuvah Swaha
Tat Savitur Varenyam
Bhargo Devasya Dhimahi
Dhiyo Yo Nah Prachodayat ||
Shri Gayatri Yantra is the repesentation of Goddess Gayatri. Goddess Gayatri is depicted having five heads. Four heads are the symbols of four vedas and one head is the symbol of the Almighty of this Universe.
This Yantra identifies your power points and improves your spiritual interests and desires. Shri Yantra symbolizez auspciousness. It is said that Sun's golden grace comes through Goddess Gayatri, which brighten up your life with more happy, more prosperous and sunny viewpoint and guides you towards a more enlighted pathway.
You can also get Shri Gayatri Yantra at your home today! Simply click on the Buy Now button given above. 
Benefits of Shri Gayatri Yantra -
Fulfill your spiritual desires and aspirations
Illuminates you with cheerful and sunny outlook and healthy thoughts
Provides you freedom from negative energies and bad dreams
Blesses you with good health, wealth, prosperity and peace
Attracts auspiciousness in your living space
Only the divine power of Goddess Gayatri can bless you with peace and protection.  Get Shri Gayatri Yantra stays with you and awaken your spiritual interest level to attain happiness, peace and prosperity in your life. 
Note: We give you 100% original Yantra designed by experts.
In case you are not satisfied with the product you may return it to us within 45 days of purchase. No questions will be asked. We will refund your return shipping amount too.
---
Recommended for you
---