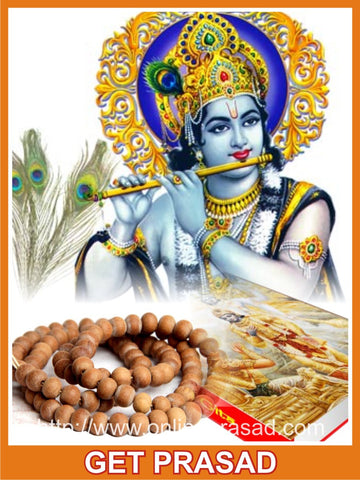 Sharad Purnima Special - Shree Krishna Temples Prasad + Bhagvat Gita + Tulsi Mala
Sharad Purnima - 7th October 2014, Get Special Blessings from Shree Krishna
Make this Sharad Purnima super auspicious.
Make special offerings at most powerful Krishna temples of India – Dwarkadeesh temple, Vrindavan Banke Bihariji, Guruvayur Shree Krishna and Pandharpur Vitthala Temple, Thakurji Banke Bihari and Giriraj Govardhan.

If you are unable to visit these temples don't worry, we will make the Prasad offering on behalf of you. You and your family will receive special Prasad blessings from these temples, at home.
Make your Prasad offering booking in these three powerful temples and get Prasad at home! We will make your special offering to these any Krishna temples you choose and send the Prasad for your whole family.
You will receive Prasad of  
Dwarikadish Prasad - A box full of Petha, Matari, Nimki tikiya and Lord Dwarkadhish's beautiful photograph for your pooja mandir!

Vrindavan Banke Bihariji Prasad

 - 

Peda

Prasad, tulsi, chandan and a beautiful picture of Lord Krishna

Guruvayur Sri Krishna Prasadam - 1 packet of kalabham, 2 packets of powdered sugar, 2 packets of ghee, 1 beautiful pendant of Lord Guruvayur and 1 photograph of Lord Guruvayur for your pooja mandir
Pandharpur Vitthala Prasad - Peda, tulsi,mishri, sacred photo of Vitthal for your pooja mandir and a book about Vitthala and His miracles
Giriraj Dharan Goverdhan - Peda, tulsi, sacred photo and lots of surprises from the temple
B
ook Now
 to get 
Shri Krishna's blessing on the pious day of Sharad Purnima along with Tulsi Mala and Bhagvat Gita book (specially from Gita Press).
Click on the  Book Now  button given above.  We will be happy to make the offering and send you Prasad.
---
Recommended for you
---