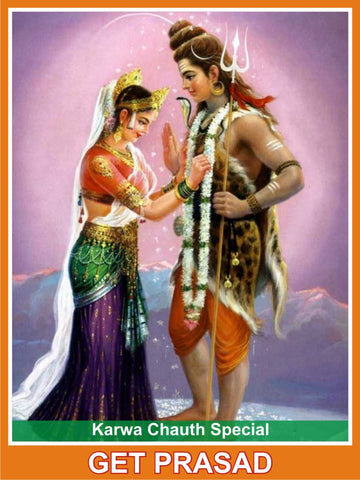 Shiv-Parvati Saubhagya Prasad + Shimmering gold poster of Shiv-Parvati
Get Prasad blessings from powerful Shiv Jyotirlingas & Shakti Temples for Karwa Chauth
Make this Karwa Chauth even more magical with Prasad from Shiva-Parvati Temples!
Karwa Chauth celebrates the love and affection between husband and wife. This year Karwa Chauth falls on 11th October, 2014. Women observe fast through-out the day for health, longevity and prosperity of their husbands.
On this auspicious day, pray to Lord Shiva and Goddess Parvati for your spouse's long-life. Make your offering and get Prasad at home!
Celebrate this beautiful relation with Prasad from the following Shiva Jyotirlingas and Shakti Peethas (choose any two prasad offerings).
Book Now to get Prasad with a beautiful shimmering gold poster of Shiv-Parvati and free home delivery!
With lots of blessings for a happy married life, you will receive two boxes full of Prasad from-
Shiva Temples (choose any one)
Kashi Vishwanath, Varanasi, Uttar Pradesh – Varanasi famous Peda, sacred vibhooti, bel patra offered to Shivji's and beautiful photo of Kashi Vishwanath for your pooja mandir
Rameshwaram, Ramathpuram, Tamil Nadu- Laddoos, mishri, sacred turmeric of Swamy, dora or raksha sutra to wear on your neck and sacred photo of Shiva
Baidyanath Dham, Deoghar, Jharkhand-  Peda, photo, mishri, bel patra
Mahakalesheshwar, Ujjain, Madhya Pradesh -  Besan ka ladoo, mishri, makkhan dana, book on Mahakal, sacred photo, Rudraksha healing bead
Somnath, Veraval, Gujarat – Til revdi, makkhan dana, khajur, mishri, photo for your pooja mandir
Shakti Temples (choose any one)
Vaishno Devi, Bhawan, Jammu - Panch bhog prasad, Mata ka Sikka, Mata pindi darshan photo and many surprises from Vaishno Devi
Ambaji shaktipeeth, Gujarat - Mohan Thal (famous prasad of Ambaji mandir) , mixture of makkhandana and toffee, sacred sindoor and rakhsha sutra
Kaila Devi – Khajur, makkhan dana, nariyal, special pendant, mishri and scared photo
Vindhyavasini Shaktipeeth, Vindhyachal -a box-full of peda, picture of Ma Vindhyavasini and a Durga Stuti book
Mahalaxmi Temple, Mumbai - Dry Sweets Prasad, Ladoos famous at Ma Mahalaxmi's temple, Mata Laxmi's beautiful photo with Yantra, Idol of Ma Mahalakshmi
Karni Mata, Deshnok, Rajasthan - a box-full of peda prasad from the internationally famous wish fulfilling rat temple of Karni Mata in Deshnok
You can choose any 2 Temples and let us know your choice by sending us an email at contact@onlineprasad.com
Seek blessings today. Get Prasad with all pooja items delivered to your home for free! Simply click on the Book Now button given above. 
---
Recommended for you
---