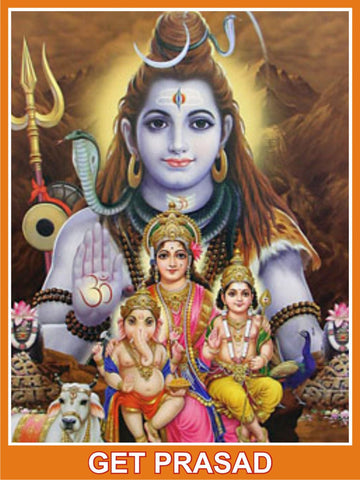 Shiv Pariwar Maha Prasad + 5 Mukhi Rudraksha + Gold poster of Shiv Parivar
Pray to Lord Shiva, Goddess Parvati and Lord Ganesha & Karthikeya for your family's happiness. Make your offering and get Prasad at home!
Benefits of Praying to Shiv Parivar - 
Lord Shiva will bless you with long and healthy life
Mata Parvati will bless you with harmonious family life
Lord Ganesha will take away your troubles and bless you with peace of mind
Lord Kartikeya will protect you from your enemies
Celebrate harmony in your relationships with Prasad from the following Shiva Jyotirlingas,Shaktipeethas, Swayambhu Ganesha Temples and Karthikeya temples (choose any four prasad offerings).
Special Gift: 5-Mukhi Rudraksha healing bead, shimmering gold poster of Shiv-Parvati Parivar and free home delivery!
With lots of blessings for a happy married life, you will receive a box-full of Prasad from-
Lord Shiva Temples (choose any one)
Kashi Vishwanath, Varanasi, Uttar Pradesh – Varanasi famous Peda, sacred vibhooti, bel patra offered to Shivji's and beautiful photo of Kashi Vishwanath for your pooja mandir
Rameshwaram, Ramathpuram, Tamil Nadu- Laddoos, mishri, sacred turmeric of Swamy, dora or raksha sutra to wear on your neck and sacred photo of Shiva
Baidyanath Dham, Deoghar, Jharkhand-  Peda, photo, mishri, bel patra
Mahakalesheshwar, Ujjain, Madhya Pradesh -  Besan ka ladoo, mishri, makkhan dana, book on Mahakal, sacred photo, Rudraksha healing bead
Somnath, Veraval, Gujarat – Til revdi, makkhan dana, khajur, mishri, photo for your pooja mandir 
Maa Shakti Temples (choose any one)
Vaishno Devi, Bhawan, Jammu - Panch bhog prasad, Mata ka Sikka, Mata pindi darshan photo and many surprises from Vaishno Devi
Ambaji shaktipeeth, Gujarat - Mohan Thal (famous prasad of Ambaji mandir) , mixture of makkhandana and toffee, sacred sindoor and rakhsha sutra
Kaila Devi – Khajur, makkhan dana, nariyal, special pendant, mishri and scared photo

Vindhyavasini Shaktipeeth, Vindhyachal

 -a box-full of peda, picture of Ma Vindhyavasini and a Durga Stuti book
Mahalaxmi Temple, Mumbai - Dry Sweets Prasad, Ladoos famous at Ma Mahalaxmi's temple, Mata Laxmi's beautiful photo with Yantra, Idol of Ma Mahalakshmi
Karni Mata, Deshnok, Rajasthan - a box-full of peda prasad from the internationally famous wish fulfilling rat temple of Karni Mata in Deshnok
Kanya Kumari, Tamil Nadu - Combination of Ladoo, Muruku and Athirasam Prasadam Packet of Kumkum, turmeric and mangalaya thread Packet of Mishri (sugar lumps or rock sugar)
Meenakshi Amman, Tamil Nadu - Ladoo and Murukku packet,Beautiful brass Idol of Meenakshi Amman (Madurai Spl) for your pooja mandir, Kumkum with Thalamboo fragrance (Madurai Spl),Beautiful picture of Meenakshi Amman
Swayambhu Ganesha Temples (choose any one)
Siddhi Vinayak, Mumbai, Maharashtra - famous "Modak"or Laddu, Lord Ganesha's idol, Lord Ganesha's Stortra with picture, holy Dubba grass and flower, chunari, sacred Siddhivinayak mauli for your family
Trinetra Ganesha Temple, Ranthambore, Rajasthan - Besan ke laddoo, sindoor and sacred photo of Trinetra Ganesha for your pooja mandir
Lord Karthikeya Temple
Murugan Karthikeya Prasadam, Palani, Tamil Nadu - Palani Murugan Temple is famous for its Panchamrita and Javvadu Vibhuti. 

Panchamirtham : Panchamirtam is applied to Lord idol as abshishekam and then distributed to devotes. 

It is considered divine and holds immense medicinal properties. Palani Panchamirtham is the oldest form of Jam or Friut mix and is world famous for its healing properties!

 
You can choose any 4 temples and let us know your choice by entering temple names on the next page.
OnlinePrasad team wishes you a very happy shivratri :) Feel free to call us or chat with us in case you have any queries.
---
Recommended for you
---