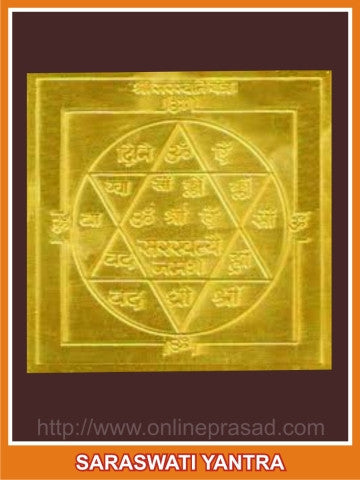 Saraswati Yantra (gold plated )
ll Ya Devi Sarva Buteshu Vidya Rupen Sansistha
Namastasye Namastasye Namo Namah ll
Saraswati Yantra – Secret of Knowledge and Wisdom
Saraswati Yantra blessed by Ma Saraswati herself gives knowledge and wisdom to the worshipper.  It is highly advisable for students and asures success in academics.
Mata Saraswati is the Goddess of knowledge, music and fine arts.
Saraswati Yantra is effective for enhancement of knowledge, education & creativity for students, businessmen, entrepreneurs, artists and people involved in creative work.
It is said that by worshipping the Saraswati Yantra, your concentration and memory power will increase. Only good thoughts will come to mind.
It reduces the malefic effects of Jupiter.
Also, for spiritual wisdom blessings of Goddess Saraswati is very essential.
You could now get the Saraswati Yantra at home! Simply click on the Buy Now button given above.
Benefits of Saraswati Yantra
Gives you wisdom and knowledge
Reduces the malefic effects of Jupiter
Brings success in your business and makes you rich
Spreads your name and gives you fame
Removes negative energy from your environment
Saraswati Yantra Pooja
Place the Saraswati Yantra on a sacred altar (your pooja mandir)
Periodically wash the Saraswati Yantra with rose water or milk. Then, wash it with water and wipe it to dry. The Yantra's color may change over a period of time; however this does not dilute the power of the Yantra
Place rounded dots of sandalwood paste on the 4 corners and in the center of the Yantra.
Light a candle or ghee lamp and an incense stick in front of the Yantra. You can offer fresh or dry fruits as Prasad, as well
Chant the Mantra above in front of the Yantra, preferably after showering
Note: We are giving you original Saraswati Yantra at the best price possible! If you are not satisfied with the Saraswati Yantra you get, you could send it back to us within 45 days of purchase. No questions will be asked. Your shipping cost will also be reimbursed.
---
Recommended for you
---