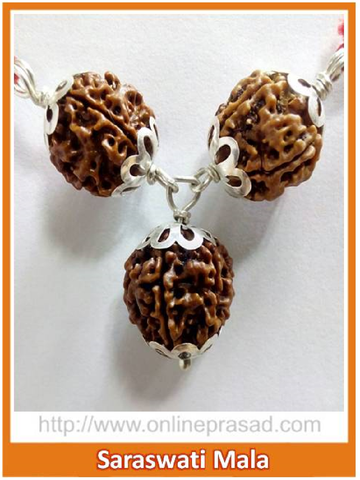 Saraswati Mala for Examination Success
Saraswati Mala will improve your learning power and help you succeed in examination. 
Top 5 Benefits of Saraswati Mala
Improves learning power
Increases the will power
Enhances your power of expression
Benefits artistic qualities of the wearer
Eliminates laziness, excess sleep and unwanted dreams
What is Saraswati Mala?
Saraswati Mala is a divine combination of two 4-mukhi Rudraksha and one 6-mukhi rudraksha. The concept behind this combination is - 
4 Mukhi Rudraksha

 belongs to Lord Brahma. This Rudraksha improves the creative skills and learning power of the wearer. The ruling planet of this Rudraksha is Jupiter.

6 Mukhi Rudraksha

 is blessed with the powers of Lord Kartikeya.  The ruling God of this Rudraksha are both Lord Ganesha and Lord Kartikeya. It improves the artistic qualities of the wearer and blessed you with success in your desired feild. The ruling planet of this planet is Venus.
Is the Saraswati Mala authentic?
100%.
Each Rudrasksha is x-ray lab tested. You will get all 3 certificates for two 4-mukhi and one 6-mukhi rudraksha.
In addition, 
You get life-long guarantee on authenticity of the Rudrakshas, and
You get 45 days NO QUESTIONS ASKED GUARANTEE if you think that this does not work!
So go ahead, click on the book now button above. Feel free to call us at 180030100505 to know more. 
---
Recommended for you
---