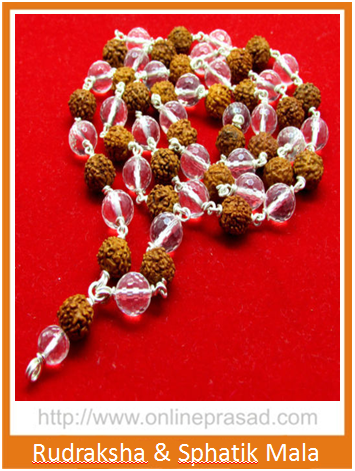 Rudraksha & Sphatik Mala - Silver
Rudraksha & Sphatik Mala
Paanch Mukhi Rudraksha is a representation of Rudra Kalangi and is believed to awaken our higher selves. It contains the blessings of five forms of Lord Shiva i.e Saddyojat, Tatpurush, Aghor, Vamdev and Isshan. This Mala will protects you from all kinds of diseases and gives mental peace and happiness.
Sphatik or Quartz crystal is a power stone related to Venus.  Sphatik protect you from negative vibrations and harmonize the aura around you. It gives peace of mind and coolness of body. Sphatik stone has a power to enhances energy by absorbing, storing, amplifying, balancing, focusing and transmitting.  It can be used to purify and clarify on the spiritual, mental, and physical planes.
Simply click on the Book Now button given above and get it at home.  
Product Details:
No of beads : 54 + Rudraksha & Sphatik each one bead as a sumeru.
Size of beads : 8.5 mm
Design : Mala made with 5 mukhi rudraksha & diamond cutting eye clean sphatik, all beads are strung together in heavy pure silver wire.
Benefits;
It amplifies healing energy and is used to perform diagnostic healing.

It helps in reducing negative energy from your environment

Enhances concentration, cools the body, and calms the mind.
Brings down the body heat of the person and ensures a sound and undisturbed sleep.

It helps you develop leadership qualities

It helps in reducing negative energy from your environment
Note: We give you 100% original Rudraksha & Sphatik Mala designed by experts.
In case you are not satisfied with the product you may return it to us within 45 days of purchase. No questions will be asked. We will refund your return shipping amount too. 
---
Recommended for you
---