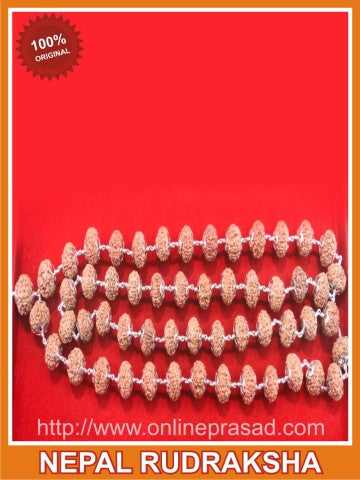 NavGrah Shanti: 9 Mukhi Rudraksha Navdurga Mala
Get 9 Mukhi Rudraksha Navdurga Mala- For Ketu Dosha
Reason to be happy! You get the 9 Mukhi Rudraksha Navdurga Mala from Nepal with silver capping, Lab-test Guarantee Certificate, X-Ray certificate and free home delivery!
We give you 100% original high quality Rudraksha - this is our guarantee! If you are not happy we give you 45 days no questions asked Money-back guarantee! Simply click on the Buy Now button given above and welcome happiness into your life!
Know more about the 9 Mukhi Rudraksha Navdurga Mala below.
You could also leave your name & phone number with us by clicking here: http://goo.gl/6tMdkU  . We will call you back! 
9 mukhi rudraksha beads are extremely rare and difficult to find.  9 mukhi Rudraksha contains the power of Nine Deities or NavDurga. So, 9 mukhi Rudraksha mala is usually worn to obtain the blessings of mother Goddess Durga. Along with Maa durga it is also blessed by Lord Bhairava.
Nav Durga Rudraksha mala controls malefic effects of Ketu and blesses with lot of energy & powers.
This Nav Durga Rudraksha mala contains 32+1 beads and every bead is strung with silver capping. 
You could now get 100% original lab-certified Rudraksha from Nepal! Simply click on the Buy Now button given above.
Benefits of 9 Mukhi Rudraksha Navdurga Mala
9 mukhi Rudraksha Mala brings wealth and family comforts

This Mala cures mental fatigue and lack of energy

The wearer is freed from the fear of death

This mala would bless you with all kinds of fame, respect and success related to spiritual progress
Note: We are giving you original Rudraksha at the best price possible! If you are not happy with the Rudraksha you get, you could send it back to us within one month of purchase. No questions will be asked. Your shipping cost will also be reimbursed.
---
Recommended for you
---