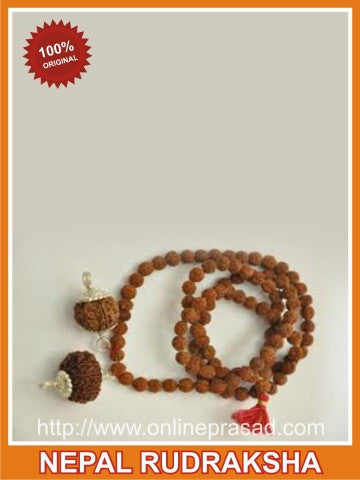 Health: 1 & 9 Mukhi Rudraksha
Get 1 and 9 Mukhi Rudraksha Mala - For Happy Married Life
Reason to be happy! You get the Heavenly Match- 1 and 9 Mukhi Rudraksha Mala from Nepal with silver capping, Lab-test Guarantee Certificate, X-Ray certificate and free home delivery!
We give you 100% original high quality Rudraksha - this is our guarantee! If you are not happy we give you 45 days no questions asked Money-back guarantee! Simply click on the Buy Now button given above and welcome happiness into your life!
Know more about the 1 and 9 Mukhi Rudraksha Mala below.
You could also leave your name & phone number with us by clicking here: http://goo.gl/6tMdkU  . We will call you back
1 Mukhi Rudraksha represents Lord Shiva and 9 Mukhi represents Maa Durga. So the combination of 1 mukhi and 9 mukhi represents the cosmic union of Shiva and Durga. It is considered to be very helpful in bringing good health and a blissful marital life!
You could now get 100% original lab-certified Rudraksha from Nepal! Simply click on the Buy Now button given above.
Benefits of 1 and 9 Mukhi Rudraksha Cosmic Union
This is most powerful combination which provides both materialistic and spiritual pleasure

It helps in meditation and provides peace

This combination is said to provide relief in disorders like migraines, epilepsy and nervous disorders
Note: We are giving you original Rudraksha at the best price possible! If you are not happy with the Rudraksha you get, you could send it back to us within one month of purchase. No questions will be asked. Your shipping cost will also be reimbursed.
---
Recommended for you
---