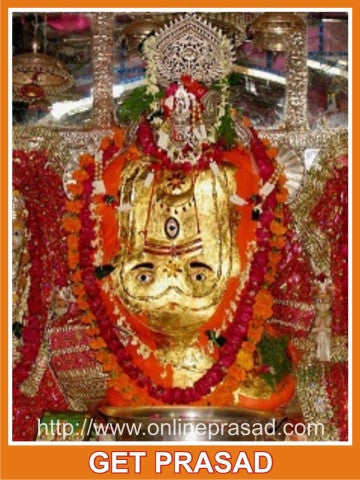 Ranthambore Trinetra Ganesha Diwali Prasad + Laxmi-Ganesh gold-plated idol + Ashta Laxmi gold Poster + Diwali Pooja Vidhi Book
ll Om Gan Ganpateye Namah ll
Good news is here! You can now make you offering at Trinetra Ganesha Temple and receive Prasad within the shortest delivery time possible!
With lots of blessings from Lord Trinetra Ganesha, you get  Special Diwali Prasad-
A box-full of dry Ladoo Prasad which is offered at the temple

Beautiful pictures of Ganpati Trinetra, for your pooja mandir and many more pooja items from the Temple..
Book now  to get  Diwali Special Prasad  from Swayambhu Ranthambore Trinetra Ganesha along with  Laxmi-Ganesh gold-plated idol, Ashta Laxmi gold Poster and Diwali Pooja Vidhi Book.  Free home delivery!
Ganpati Trinetra Temple is situated at Ranthambore, Rajasthan. This is the Pratham Ganesha Temple which is believed to be existent from the ancient times. The special attribute of this temple is that the Ganesha idol here has three eyes (Trinetra) and this temple is said to be the eminent (Prathama) Ganesha Temple in the country.  
Lord Ganesha is a symbol of auspiciousness. He is worshiped by devotees to seek good fortune and intellect. He is the destroyer of obstacles. 
You can also seek blessings of Lord Ganesha. Make offering to Prabhu Vighneshwar and get Prasad from Ranthambhore Ganpati Trinetra Temple.
About
Ranthambore Ganesh Temple is situated inside the Ranthambore Fort, which is about 12 km away from Sawai Madhopur, Rajasthan. Legend says that during a battle between King Hameer (King of Ranthambhore) & Alauddin Khilji in 1299 AD, all food items and essential items were exhausted quickly. King Hammer was an ardent devotee of Lord Ganpati. During the war, King Hammat dreamt about Ganesh Ji. Lord Ganesha told him that the next morning all his problems would come to an end. And lo! The next day, he saw an idol of Lord Ganesha with three eyes (Trineta) miraculously embossed on one of the fort's wall. And, to add to everyone's surprise all the godowns of the fort were filled with food and essential supplies!
King Hammer constructed the Trineta Ganesha Temple, Ranthambore in 1300 AD and installed the idols of Lord Ganesha along with his wives Riddhi-Siddhi and two sons, Shubh-Labh.
On Ganesh Chaturthi, the temple attracts thousands of devotees each year. This is a must visit temple for a Ganesha devotee. 
---
Recommended for you
---