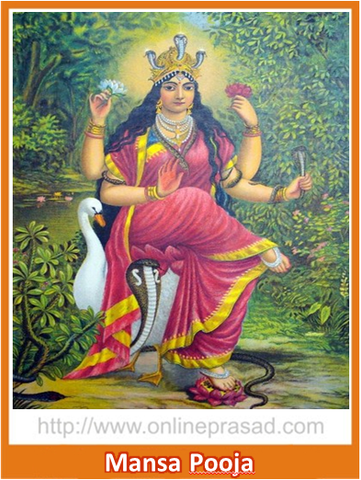 Manasa Puja
Maa Manasa Pooja


Maa Manasa is a Hindu Goddess primarily associated with snakes. She is also considered to be the nurturer of fertility. Even though Maa Manasa is popular mostly in Bengal and north east India, she is widely revered by Hindu devotees all across the nation. Some legends say that Maa Manasa is actually a daughter of Lord Shiva.

Importance Of Manasa Pooja

Also known as Padmavati, Nitya and Vishahari, there are several fascinating stories in Hindu folklore that establish Manasa as a significant deity. It is believed that Maa Manasa was the one who saved Lord Shiva from being poisoned during Samudra Manthan. Lord Shiva had drunk the dangerous poison Halahala, which otherwise would have destroyed the entire universe. Maa Mansa is considered to be a kind and benevolent form of Mata, who brings great happiness and prosperity to the lives of her devotees.

Advantages Of Manasa Pooja

1. Keeps one protected from snakebites and dangerous diseases.

2. Improves the quality of one's material life.

3. Helps fulfill the wishes of devotees.

4. Gives great peace of mind and helps attain spiritual bliss.




---
Recommended for you
---