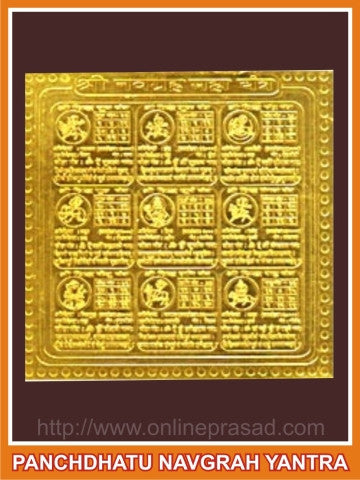 Panchdhatu Navgrah Yantra
ll Om Suryae Namah, Chandrae Namah, Mangale Namah, Budhae Namah,
Brahaspatiae Namah, Shukrae Namah, Sani Ae Namah, Rahu Ae Namah, Ketu Ae Namah,
Navgarahe Namahll



Panchdhatu Navagrah Yantra – Victory in Competition, Law Suits and over Enemies
This Panchdhatu Navagrah Yantra is a combination Yantra blessed by all the nine planets. It is divided into nine squares, each one symbolising one planet.
Navagraha represents the nine celestial influencers in Vedic Astrology. The seven days of the week are named after the seven visible celestial bodies. The Navagraha Yantra  is a geometrical diagram of the Nine Planets  and has an unique importance in affecting one's life.
Panchdhatu Navagrah Yantra can both amplify and improve the beneficial effects of your planets. The Navagraha Yantra is works on all nine planets at once and in a mutually harmonious fashion!
It is a highly useful & beneficial Panchdhatu Navagrah Yantra, since its worship strengthens beneficial planets & increases their positive influence and pacifies malefic planets & neutralizes their negative effect.
This Panchdhatu Navagrah Yantra is recommended for all, particularly those whose planets are detrimental or malefic as per their birth charts.
You could now get the Navagrah Yantraat home! Simply click on the Buy Now button given above.
This Panchdhatu Navagrah Yantra should be worshipped through your lifetime to ensure that you always get maximum advantage from your planets.
Benefits of Panchdhatu Navagrah Yantra
Removes/prevents malefic influences of the 9 planets
Brings success in your life and makes you happy
Spreads your name and gives you fame
Removes negative energy from your environment
Removes all evil spells cast on you
Gives you health and wealth
Gives you mental peace
Beneficial for couples who long for marital harmony
Panchdhatu Navagrah Yantra Pooja
ll Adityaya Somaya 
Mangalaya Budhayacha 
Guru Shukra Sanibescha 
Rahavay Ketavay Namaha ll
Place the Navagrah Yantra on a sacred altar (your pooja mandir)
Periodically wash the Navagrah Yantra with rose water or milk. Then, wash it with water and wipe it to dry. The Yantra's color may change over a period of time; however this does not dilute the power of the Yantra
Place rounded dots of sandalwood paste and turmeric on the 4 corners and in the centre of the Yantra.
Light a candle or ghee lamp and an incense stick in front of the Yantra. You can offer fresh or dry fruits as Prasad, as well
Chant the Mantra above in front of the Yantra, preferably after showering
Note: We are giving you original Panchdhatu Navagrah Yantra (gold plated) at the best price possible! If you are not satisfied with the Panchdhatu Navagrah Yantra you get, you could send it back to us within 45 days of purchase. No questions will be asked. Your shipping cost will also be reimbursed.
---
Recommended for you
---