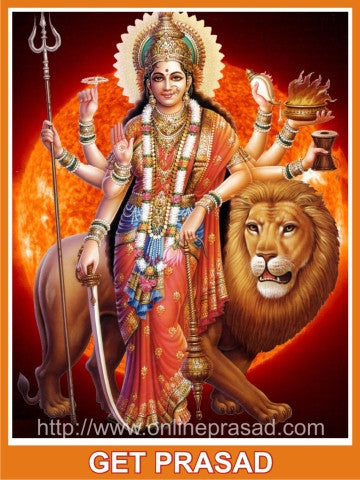 Tri Shakti Navratri Prasad
Make Your Offering at Vaishno Devi and other Shakti Temples during Navratri and get Prasad Blessings for your Family! 
!! Jai Ma Durge !!
Blessed is he, who with all his heart and soul welcomes Ma Durga on Navratri! Maha Navratri 2014 will be celebrated grandly all over India from 25th September to 4th October!
Celebrate this Navratri in a very special way. Make your offering at Vashno Devi or any Shakti Temples of India and get Prasad at home! 
With lots of blessings for your family,you get Prasad.  We will make the offering on your behalf of you at any Shakti Temple you choose and send the Prasadam to your home, at no extra home delivery charge! 
You can choose from any 3 Shakti Temples below and we will deliver the Prasad to you :
Vaishno Devi, Bhawan, Jammu - Panch bhog prasad, Mata ka Sikka, Mata pindi darshan photo and many surprises from Vaishno Devi, during this Navratri season !
Kamakhya Devi Shaktipeeth, Assam - a box-full of Peda offered to Ma Kamakhya Devi and sacred sindoor for protection from Kamakhya. 
Ambaji shaktipeeth, Gujarat - Mohan Thal (famous prasad of Ambaji mandir) , mixture of makkhandana and toffee, sacred sindoor and rakhsha sutra
Chinnamastika Shaktipeeth, Rajrappa - famous pedas offered to Ma along with sacred picture of Ma Chinnamastika for your pooja mandir, sindoor and raksha sutra
Vindhyavasini Shaktipeeth, Vindhyachal -a box-full of peda, picture of Ma Vindhyavasini and a Durga Stuti book
Mahalaxmi Temple, Mumbai - Dry Sweets Prasad, Ladoos famous at Ma Mahalaxmi's temple, Mata Laxmi's beautiful photo with Yantra, Idol of Ma Mahalakshmi 
Karni Mata, Deshnok, Rajasthan - a box-full of peda prasad from the internationally famous wish fulfilling rat temple of Karni Mata in Deshnok 
Kanya Kumari, Tamil Nadu - Combination of Ladoo, Muruku and Athirasam Prasadam Packet of Kumkum, turmeric and mangalaya thread Packet of Mishri (sugar lumps or rock sugar)

Meenakshi Amman, Tamil Nadu - 

Ladoo and Murukku packet,Beautiful brass Idol of Meenakshi Amman (Madurai Spl) for your pooja mandir, Kumkum with Thalamboo fragrance (Madurai Spl),Beautiful picture of Meenakshi Amman
To get Prasad at home, simply click on the Buy Now button given above. 
---
Recommended for you
---