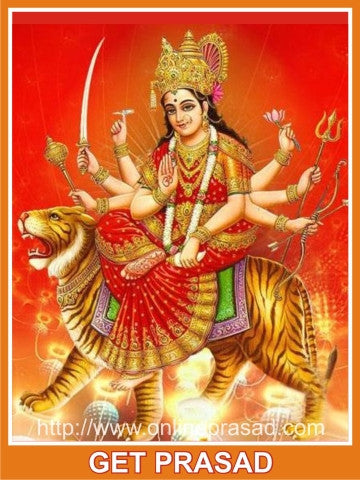 Chaitra Navratri Special : Maa Vaishno Devi Prasad + Golden Poster of Maa Durga
JAI MATA DI
Celebrate this Navratri in a very special way. Make your offering at Vaishnodevi and get Prasad at home! 
Chaitra Navratri, also known as Vasant Navratri, is an auspicious period of nine days, dedicated to the 9 forms of Shakti or Goddess Durga.  
Chaitra Navratri, falls during the Shukal Paksh in the month of Chaitra (mar- april), is considered very auspicious. Pooja done during the Navratras of the Chaitra month provides a shield against any sort of danger or injury and devotee attains riddhi & siddhi.
Chaitra Navratri in 2014 will begin from 31th March and ends on 8 April 2014.
With lots of blessings from Maa Vaishnavi get a box full of Prasad from Bhawan - 
Panch bhog prasad
Mata ka Sikka
Mata pindi darshan photo
To get Prasad at home, simply click on the Buy Now button given above. 
We will make the offering at Vaishno Devi on your behalf and send the Prasad to your home, at no extra home delivery charge! Avail this special opportunity to make Prasad Chadawa at Vaishno Devi and get Prasad blessings for your whole family! 
Ma Vaishnavi - Mahima
Vaishno Devi temple is near the town of Katra at Jammu Kashmir and is dedicated to Shakti. It is the second most visited pilgrimage in India and thousands of devotees visit daily from across the world to seek blessings from Maa Vaishnavi. She is also known as "Mata Rani" and "Maa Vaishnavi".
Goddess Vaishnavi is considered to be incarnation of combined Shakti or power of the Goddess Saraswati, Goddess Lakshmi and Goddess Kali. The main reason of birth of Vaishno Devi was the destruction of demons from the earth. The divine girl was born to a man called Ratnakar who named her Vaishnavi.
Vaishnavi left her house at a very tender age of nine to perform mediatation and went to deep forests at the Trikuta hills to observe penance. Lord Rama came to Trikuta hills in the search of Sita with his army and eventually met her. Vaishnavi recognized him as the incarnation of Lord Vishnu and asked him to marry her. But Lord Ram on being faithful to his wife, told her that this is not the appropriate time for the same and he would marry her in Kaliyuga in the avatar of Lord Kalki. He asked her to mediate to increase her spiritual powers. As directed by Lord Rama, she built an Ashram at Trikuta and started her meditation to seek answers within herself.
Soon, a man called Bhairo Nath came to know about her and when he saw her, he was really impressed with her divine beauty. He started to pester her to marry him. Vaishnavi decided to run away to jungles to evade him. After long time of this hide and seek, she confronted him on the entrance of a cave and beheaded him.  Bhaironath realised his mistake after death and asked for the forgivness from Mata Vaishnavi . He was forgiven by the Goddess and was blessed that every devotee who comes to worship her will also have to visit the temple of Bhairon Nath without which their Vaishno Devi yatra will remain incomplete. Mata Vaishnavi then left her body, become a rock statue and went into meditation for long lasting era.
Note: It might take a couple of extra days for shipping due to lack of transportation at Bhawan. Please feel free to give us a missed call at 09933421341 for any questions.
---
Recommended for you
---