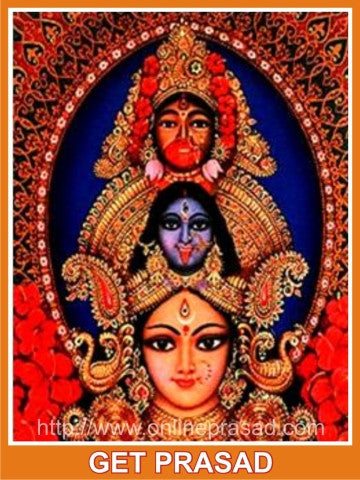 Kamakhya Devi Diwali Prasad + Golden Poster + Durga Idol
Get  Navartri Prasad from a very poweful Shaktipeetha - Kamakhaya Devi temple, Assam
Sharad Navratri are the nine days dedicated to Maa Durga's homecoming.  Navratri is celebrated to propitiate the Shakti and attain her blessings in the form of prosperity, knowledge and wealth. 
Celebrate this Navratri in a very special way. Make your offering at Kamakhya Devi Shaktipeeth and get Prasad at home! 
In this combo: You get Prasad along with Ma Durga's idol (gold-plated) for your pooja mandir and a beautiful shimmering gold framable poster of Ma Durga. You have an option of choosing Gangajal instead of Poster.
Along with lots of blessings from Ma you get Navratri prasad blessings from Kamakhya Temple-
We would offer prasad at Kamakhaya Devi temple and send you -
1. Peda or Burfi prasad made out of sugar and milk powder. 
2. Shringaar offering such as garlands made out of Hibiscus flowers.
3. Auspicous photos of Kamakhya Devi temple and much more..
Book your offering straight away as it will be based on first come first served basis!
You must offer Prasad to Maa to seek her divine blessings during this auspcious occassion. To get blessings and prasad, please click on the Buy Now button given above.
Book Now to get the following items with Prasad - Ma Durga's idol (gold-plated) for your pooja mandir and a beautiful shimmering gold framable poster of Ma Durga. You have an option of choosing Gangajal instead of Poster(to replace poster with Gangajal - simply drop us an email with your name and order id).
About
The Kamakhya Devi temple is one of the 51 Shakti peethas in India. Kamakhaya Devi is said to be a form of Goddess Durga or Shakti. She is also closely associated with Maa Kali and Maha Tripura Sundari. The name Kamakhya means 'beloved goddess of desire''. The deity of the temple is a natural stone crevice which symbolises the 'Yoni'. Yoni is a female generative organ. And the deity is always kept covered with a silk saree, flowers and Sindoor (vermillion).
Legend
Legend says that this is the place where the uterus of the Goddess Sati fell when Lord Vishnu teared her body into 51 parts to pacify Lord Shiva. And this place was founded by the God of Love, Kamadeva to get rid from a curse of Brahmaji. 
About
The Kamakhya Temple is located on the Nilachal hill in the western most part of Guwahati. The main temple comprises of seven oval spires and each is topped by three golden pitchers.The earlier instances of the temple, is found in the Allahabad inscriptions by Emperor Samudragupta. The temple was however reconstructed by King Nara Narayan of Cooch Behar in 1665.
Rituals
The Kamakhya temple is very different from the conventional Hindu temples. Here, the ritual of the animal sacrifice is a very unique experience for the temple visitor. The festival of Durga Pooja is celebrated on a grand note for 16 days at the temple during the autumn Navratris. Apart from these, the Ambubachi Mela and Manasha Puja are of equal significance and attracts a large number of devotees every year. 
Ambubachi Mela is said  to be the time when the Goddess menstruates. And this fair begins on the 7th day of the Ashaad month every year. While Manasha Puja is an annual celebration when Manasha Devi is worshipped by the people to get fertility, prosperity and immunity from diseases in their lives.
OnlinePrasad.com is not a temple representative. We act as your representative to offer & deliver Prasad to your doorstep. The price of Rs. 501 will be used to buy and offer Prasad at the temple. And, to cover all miscellaneous costs such as -
Packaging,
Professional handling and logistics,
Shipping,
Payment collection, and
Government taxes
Please feel free to give us a missed call at 09933421341 for any questions.
---
Recommended for you
---