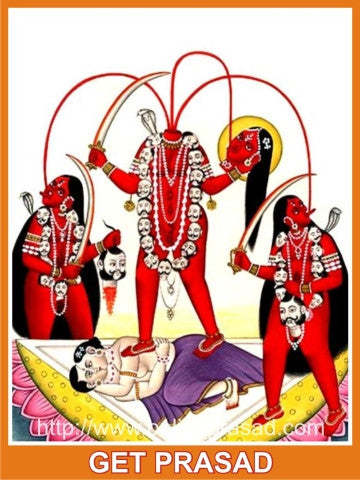 Chhinnamasta Navratri Prasad + Golden Poster + Durga Idol
With lots of Blessings for your family on Navratri, get Prasad from Maa Chhinamasta Temple
Celebrate this Navratri in a very  special  way. Make your offering at Chinnamastika Shaktipeeth and get Prasad at home! 
In this combo: You get Prasad along with Ma Durga's idol (gold-plated) for your pooja mandir and a beautiful shimmering gold framable poster of Ma Durga. You have an option of choosing Gangajal instead of Poster.
We will make the offering at Chinnamastika Shaktipeeth on your behalf and send the Prasad to your home, at no extra home delivery charge! 
With lots of blessings for your family, you will receive a box-full of Prasad -
Prasad – offered to the temple on your behalf

Vibhuti- the holy ash.

Beautiful Picture of Maa Chhinamasta. 
Book Now to get the following items with Prasad - Ma Durga's idol (gold-plated) for your pooja mandir and a beautiful shimmering gold framable poster of Ma Durga. You have an option of choosing Gangajal instead of Poster(to replace poster with Gangajal - simply drop us an email with your name and order id).
Simply click on the Buy Now button given above. 
Chhinnamastika Devi Temple is a famous Maa Kali temple in forest area at Ramgad (Jharkhand).
Maa Chhinamasta Temple is famous for its Dus Mahavidya Maa Chhinnamastika Puja. 
Immediate relief from Rahu Dosha
A special puja is performed in this temple to mitigate evil effects of Rahu dosha. This puja holds a great astrological significance and is known Dus mahavidya Maa Chhinnamastika puja. It provides immediate relief from suffering and agony created during Rahu dosha. This puja also leads to increase in knowledge, satisfaction, victory, health and wealth. Person going through following Rahu dosha are suggested to carry out this puja.
Period of Rahu (mahadasa or antardasa)
Matibhrama Yoga (misguided or deluded thinking)
Other Rituals
People come to Maa for getting married.

Ritual of Mundan or shaving the head.

Tantriks look upon this place for Tantric accomplishment.
About
Maa Chinnamasta is an incarnation of goddess Kali. She symbolizes both aspects of Devi: a life-giver and a life-taker. She is fifth goddess among Dasamaha Vidya (ten tantric goddesses).
The Sanskrit word "Chinnamast" stands for the one whose head is cut off. Maa Chinnamasta is also known Chhinnamastika and Prachanda Chandika.
 Maa chhinnamasta is associated with the concept of
Self-sacrifice.
Awakening of the kundalini – spiritual energy.
Relief from Rahu dosa
The Deity
A popular image of Goddess Chhinnamasta is that of her offering her own head as food to devotees. The self-decapitated goddess holds her own severed head in one hand, a sword in another. Three jets of blood spurt out of her bleeding neck and are drunk by her severed head and two attendants known as Dakini and Varnani.  The headless idol of Goddess Chhinnamastika stands on the body of Kamdeo and Rati ( Manmadhan & Rathi ) in Lotus bed. 
Mythology
According to legend, once Goddess Parvati went to take bath with her attendants. Goddess Parvati was so much engrossed in her bath that she lost count of time. Meanwhile her attendants became hungry and kept demanding for food. The merciful Goddess offered her own head as food and satisfied hunger of her devotees.
Mata Chhinnamastika puja protects her devotees from:
Social, financial and physical instance of misfortune

State of difficulty

Childlessness

Debt and poverty

Misguided mind

Protects a person from akaal mrityu

Malefic effects of Rahu
Festivals
Large number of devotees visits the temple on the full Moon and New Moon nights. Navratra and other mahurats for Dusmahavidya Puja are also important day at temple. Chinnamasta Jayanti is yet another day of grand festivity. It is the day when Goddess Shakti appeared in the form of Maa Chinnamasta. This festival is observed on the Chaturdashi during the Shukla Paksha of Vaishakha month.
---
Recommended for you
---