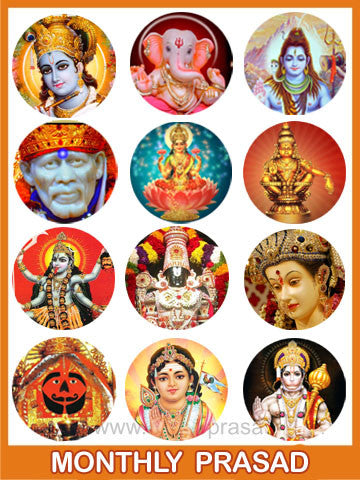 Monthly Prasad offering, life-long blessings
What can be a great start to every month than starting it with the blessings of your favorite deity?
Yes, now Online Prasad brings you a rare opportunity to get Prasad from every famous temple in the starting of every month. 
Every month is dedicated to the worship of some specific deity. And, in the starting of every month we will offer Prasad at the famous temple of that deity on your behalf and home deliver it to you. 
After booking - you can choose the temples of your choice each month. The options are - 
Same temple Prasad every month - typically your isht-devta temple
Top festival of the month Prasad - this will be our recommendation
Customized offering - we will give you a call and you can choose your favourite temple
And, what you get? A great start to your new month that will bless you with success, prosperity and protection against negative and evil energies in the upcoming days.
Offer Prasad at your favorite temple and get it at home at no extra home delivery charges.
You can now offer Prasad at every famous Temple and receive it at your home.  Click on "Book Now"
Note : The amount of money paid will be used to buy and offer Prasad at the temple. And, to cover all miscellaneous costs such as -
Packaging,

Professional handling and logistics,

Shipping,

Payment collection, and

Government taxes
Please feel free to give us a missed call at 09933421341 for any questions.
---