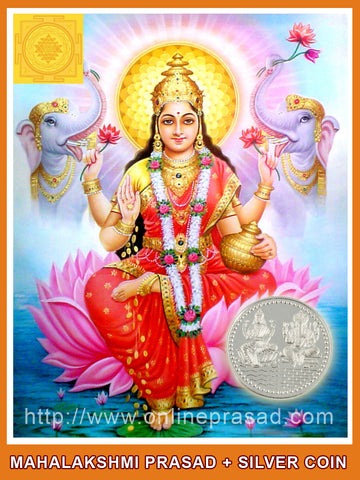 Mahalakshmi Diwali Maha Prasad (2) + Silver Coin + Shree pocket Yantra + Laxmi-ganesh gold-plated idol + Shimmering gold poster of Laxmi-Ganesh + Diwali Pooja vidhi book
ll Ya Devi Sarva Bhuteshu Laxmi Rupen Sansthitha Namastasyey Namastasyey Namastasyey Namo Namah ll
Ma Mahalakshmi Diwali Maha Prasad and Special Pooja Kit For Your Home and Office
We wish you a very happy Diwali! 
This New Year may the golden-footed Ma Mahalakshmi enter your life and give you good health, abundant wealth and prosperity.
Celebrate this Diwali in a very  special  way. Make your offering at 2  most powerful Mahalakshmi Temples of India and get Prasad at home! 
You get 2 boxes full of Prasad along with a beautiful Laxmi-Ganesh Silver Ritual Coin with Shree pocket Yantra, Laxmi-Ganesh gold plated idol and Ashta Laxmi shimmering gold poster! With this you will also receive a very special and rare collection of Diwali Pooja vidhi e-book absolutely free! 
We will make the offering at Mahalakshmi Temples on your behalf and send the Prasadam to your home, at no extra home delivery charge!  Send this Prasad to your loved ones or share it with your family & friends and start the new year on a wonderful note.
 Your offering will be made at the 2 powerful Mahalakshmi Temples on Diwali and we will deliver the Prasad to you :
1.Mahalakshmi, Mumbai : Dry Sweets Prasad, Ladoo, Mata Laxmi's beautiful photo with Yantra and Idol of Ma Mahalakshmi
2. Mahalakshmi Kolhapur : Ladoo Prasad, Makkhan Dana, Mata Laxmi's beautiful photo,book of Mata Lakshmi's miracles and slokas,powerful sindoor and chandan from Ma Lakshmi,sacred pooja items for your Pooja mandir from the temple
Book Now to get all the special pooja items + Silver Coin with Prasad FREE. 
Diwali is the annual festival celebrated by lighting lamps to drive away evil spirits. It is considered to be a very auspicious day to worship Ma Mahalakshmi and Lord Ganesha. Its a perfect occasion for Ganesha and Maha Laxmi devotees to feel the presence of the deities around them and to seek  blessings for a great fortune & success. Diwali this year falls on 23rd October 2014.
Lord Ganesha is vigneshwara, one who removes all the obstacles from your life and who is worshipped before starting any new venture or buying anything new.
This year, worship Ma Mahalakshmi with Mahalakshmi Pooja items and attain their divine blessings for wisdom and good fortune. Get this Ma Mahalakshmi Prasad and Pooja Kit home today. Click on Book Now button Now!
---
Recommended for you
---