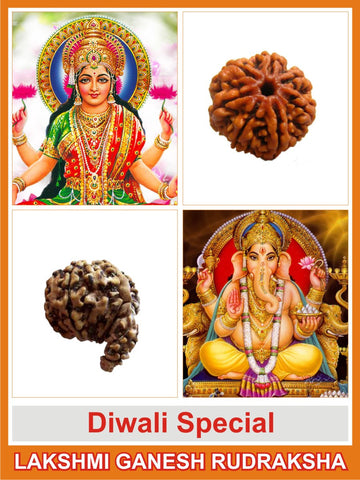 Mahalakshmi-Ganesh Rudraksha (silver capping) + Laxmi-Ganesh Idol + Diwali Pooja Vidhi Book
Diwali 2014 will be celebrated on 23rd October!
Get Special blessings from Ma Maha Lakshmi and Bappa Ganesh on this Diwali!
This Diwali gift yourself and your loved ones the most auspicious and rare gift ever- Laxmi-Ganesh Rudraksha. Diwali is the perfect time for you to seek blessings from Ma Laxmi and Lord Ganesha and begin your new year beautifully. This rare Rudraksha can be worn by anyone irrespective of gender, caste, creed or religion.
Wear this beautiful and powerful Rudraksha with silver capping and attract wealth, good health and better social status. This is the perfect piece of auspicious jewelry for you, this season!
Take along with you Ma Laxmi and Lord Ganesha's blessings wherever you go! 
Ruling God: Laxmi-Ganesh
Ruling Planet: Saturn
Beej Mantra: Om Hum Namah, Omn Gam Ganpataye Namah
Book Now to get Laxmi-Ganesh pure Silver Coin, Laxmi-Ganesh Idol and Diwali Pooja Vidhi book along with a beautiful Lakshmi-Ganesh Rudraksha. FREE home delivery.
Benefits of wearing Lakshmi-Ganesh Rudraksha-
This Rudraksha brings luck and happiness

Lakshmi-Ganesh Rudraksha gives peace, prosperity & wealth

This Rudraksha reduces stress, aggression & anxiety

It increase business and removes financial crisis

Beneficial for people suffering from ashthama, diseases of digestive system

It removes negative energy from the atmosphere and makes relationships harmonious

It gives you immense confidence

It improves your learning powers

It gives you strength to fight stress and diseases 

It removes all obstacles from your path
---