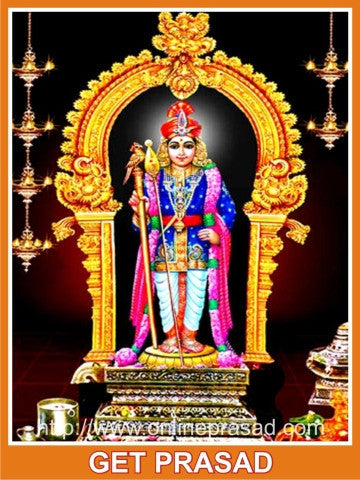 Palani Murugan Prasadam + Gold poster of Karthikeya Swamy
During the holy month of Karthik, with blessings from Swamy, you Get Prasadam 
Panchamirtham - the famous and nutritious Abhishek applied to Lord Murugan. This comes in a tighly sealed medium size tin can.
Javvadu Vibhuti- the holy ash which posses divine properties
Beautiful Picture of Lord Murugan
Palani Murugan Temple is the most famous temple of Lord Dhandayuthapani Swamy or Lord Kartikey or Lord Subrahmanya in India. 
Special announcement: Avail Prasad from  Murugan Swamy Temple, Palani on the most auspicious day of Karthik Masam. Get fortune, happiness as well as health for you and your family.
We would offer prasad to Palani Murugan Temple on your behalf. You receive the divine blessings of Lord Kartikey for a healthy, happy and prosperous life for you and your family.
Palani Murugan Temple is famous for its Panchamrita and Javvadu Vibhuti.
Panchamirtham : Panchamirtam is applied to Lord idol as abshishekam and then distributed to devotes.
It is considered divine and holds immense medicinal properties.

Palani Panchamirtham is the oldest form of Jam or Friut mix.

Can be preserved for months without refrigeration.

It is not only Delicious but also nourishing food.
Book Now to get shimmering gold poster of Karthikeya Swamy along with Prasadam.
About
Lord Murugan is the lord of war and victory yet he is very merciful and kind. This temple is situated on Sivagiri hill, Tamil nadu. It is believed that lord listen to the prayers of all his devotees and fulfils their wish.
The deity is in a standing position with a baton in his hand. He has the look of a person who has renounced all worldly pomp. He has just a loincloth besides the baton. He is a mute messenger of the great precept 'Renounce all to reach Me'. The icon is unique in the whole world.
Lord Muruga's idol is accompanied by the two minor shrines of Lord Shiva and Maa Parvati. Also present here is the shrine of Sage Bhogar and Lord Ganapati.
The idol
The idol of the Lord Muruga was created by sage Bhogar. The idol is believed to possess great medicinal qualities.
The deity faces west rather than east.

The idol is made of amalgam and nine medicinal stones( Navapaashaanam).
The deity bears excessively large ears. (It says that Lord listens to each of his devotees' prayers)
Speciality of Palani Temple
Since the idol is made of medicinal stones, the materials used for abhishekam like milk, sandalpaste, etc., attain medicinal properties. Is it believed that they have cured many diseases, when taken by the patients. 
Traditions
Devotees donate their hair in imitation of the Lord.

Rubbing of the head of the God's idol with chanda?am, at night.

The paste allowed to stay overnight and then distributed to devotees, as rakk?la chanda?am.

It is said to acquire immense medicinal properties.
The Legend 
One day, Lord Narada offered a fruit, the gyana-pazham (fruit of knowledge) to Lord Shiva. Lord Shiva wanted to divide it among his two sons - Ganesha and Karthikey. But sage Narada advised him not to cut the fruit. So Lord Shiva announced to award it to the son who will go round the world and reach back first. Both the sons agree to it. Ganapathy made circumambulation of His parents, reached first, and won the fruit. Murugan who went on his peacock around the world reached later and found that Ganapathy had won the prize. Lord Kartikey got disappointed, left Mount Kailash and reached Palani Hill. Later Lord Siva and Maa Parvathi came to Palani and pacified Murugan telling him "you are yourself a divine fruit; why do you need a fruit?"
Festivals
Any day sacred to the god Subrahmanyan is celebrated with great splendour. Most Important festivals are
Thai-Poosam: celebrated on the full moon day of the Tamil Month of Thai ( January-February).

Pankuni-Uththiram: last for 10 days, devotees carry holy water, sugar, tender coconut.

Aani-Annabhishekam: abhishek with fragrant cooked rice.
Other important festivals are Vaikhashi-Vishakham, Soora-Samharam, Agni Nakshatram, Chitra Pournami,Vaikaasi, Markali,and Karthikali
---
Recommended for you
---