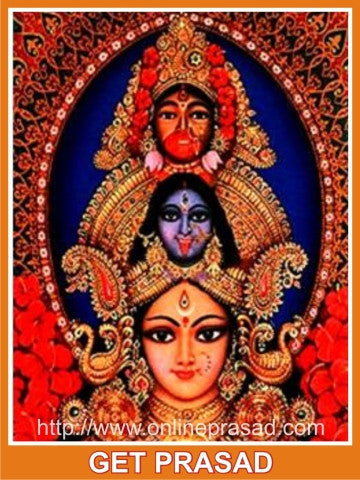 Kamakhya Devi Prasad + Laxmi-Ganesh Silver Coin + Laxmi Ganesh Gold-plated Idol
Ma Kamakhya Devi's Prasad and Laxmi-Ganesh Silver Coin!
Offer  Prasad at Ma Kamakhya Devi's temple  and get it at home at  no extra home delivery charges . Get a beautiful gold-plated  idol of Laxmi-Ganesh  and a Pure silver Laxmi-Ganesh ritual coin .
You can seek divine blessings of Ma Kamakhya along with your family on the auspicious day of Diwali. Get blessings and start you Diwali on a very blessed note.
We will offer the Prasad on behalf of you and send you a box-full of Prasad from Kamakhya Devi. 
Along with lots of blessings from Ma Kamakhya you get Prasad blessings -
We would offer prasad at Kamakhaya Devi temple and send you -
1. Peda or Burfi prasad made out of sugar and milk powder. 
2. Shringaar offering such as garlands made out of Hibiscus flowers.
3. Auspicous photos of Kamakhya Devi temple and much more..
Book your offering straight away as it will be based on first come first served basis!
Book Now  to get  Prasad with  Silver coin and Idol of Laxmi-Ganesh  at home.  FREE home delivery! 
The Kamakhya Devi temple is one of the 51 Shakti peethas in India. Kamakhaya Devi is said to be a form of Goddess Durga or Shakti. She is also closely associated with Maa Kali and Maha Tripura Sundari. The name Kamakhya means 'beloved goddess of desire''. The deity of the temple is a natural stone crevice which symbolises the 'Yoni'. Yoni is a female generative organ. And the deity is always kept covered with a silk saree, flowers and Sindoor (vermillion).
.
---
Recommended for you
---