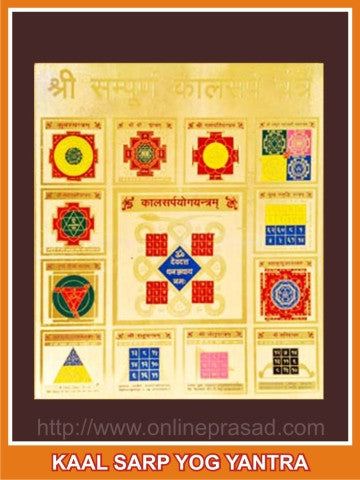 Kaal Sarp Yog Yantra
ll Om Hoom Joom Saha, Om Bhu Bhuvah Swaha,
Om Triyambhakam Yajamahey, Sungandhim Pushti Vardanam,
Uruvaru Kamiva Bandhanan, Mrityor Muksheeya Mamritat,
Om Swaha Bhuvah, Bhu Om Saha, Joom Hoom Om ll
Get Kal Sarp Yog Yanta to remove malefic effects of Rahu and Ketu
 'Kaal Sarp Yog' is an astrological condition in which 'Rahu' and 'Ketu' have an adverse effect on the remaining planets, in the birth chart of a person.
'Kaal Sarp' causes a very uncertain and chequered life, specially with respect to one's career. A person with 'Kal Sarp' achieves moderate levels of success after lots of struggle and is always frustrated. However, this effect lasts for only one – third of the lifespan of an individual, thereafter, its influence decreases. The 'Kal Sarp Yog' is however, a permanent condition and does not change with transit. It is advisqable for people with this condition in their astrological charts to get the Kal Sarp Yog Yantra. 
You can get your Kal Sarp Yog Yantra at home. Simply click on the Buy Now button given above.
Individuals with Kaal Sarp Dosh should perform pooja on Naag-Panchami.
Benefits of Kal Sarp Yog Yantra
Negates the effects of Kal Sarp Yog
Removes difficulties of your life
Brings happiness into your life
Brings satisfaction in job and career  
Note: We give you 100% original Kal Sarp Yog Yantra.
In case you are not satisfied with the product you may return it to us within 45 days of purchase. No questions will be asked. We will refund your return shipping amount too. 
---
Recommended for you
---