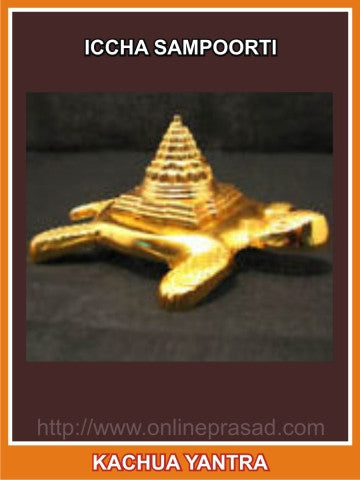 Iccha Sampoorti Panch Dhatu Kachua Yantra
ll Ya Devi Sarv Bhuteshu Lakshmirupen Sansthitha
Namastasye Namastasye Namastasye Namoh Namah ll
Get Iccha Sampoorti Kachua Yantra and Remove All Vaastu Doshas
This special Maha Yantra popularly known as the Iccha Sampoorti Kachua (tortoise) Yantra is a symbol of Lord Vishnu and Mata Laxmi and is said to be highly beneficial and auspicious if kept at home. It not only fulfills all your wishes but also removes all Vaastu ill-effects of your home and planetary doshas from your birth chart.
You could get this highly beneficial Iccha Sampoorti Kachua Yantra at home! Simply click on the Buy Now button given above. 
Size: 2.5inches
Metal: Panch Dhatu (metallic alloy of 5 metals)
Benefits of Iccha Sampoorti Kachua Yantra
Opens your doors to fortune
Brings positive energy in your environment
Removes Vasstu and planetary Doshas
Gives you name and fame
Bring Success in your business
Improves Wealth and Prosperity
Removes Negative effect of your planet
Gives you dominance and power over your enemies
Iccha Sampoorti Kachua Yantra Pooja
Learned Brahmins and saints advice devotees to worship Iccha Sampoorti Kachua Yantra everyday. This Yantra could be immersed in water for better effects. 
 Note: We give you 100% original  Yantra designed by experts.
In case you are not satisfied with the product you may return it to us within 45 days of purchase. No questions will be asked. We will refund your return shipping amount too. 
---
Recommended for you
---