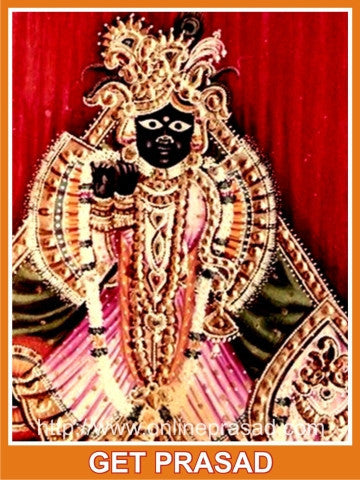 Sharad Purnima special : Thakur Banke Bihari Prasad+Tulsi Mala+Bhagvat Gita
7th Oct 2014 is Sharad Purnima.
Purnima is an auspicious time to make special offerings to Thakurji Banke Bihari - The universal guru.
Vasudev sutam devam, kamsa charnoor mardanam|
Devaki parmanandam ,Krishnam vande jagadgurum ||
Meaning goes as: Prostrations to Krishna, the son of Vasudev, bestower of divine happiness to Devaki, demolisher of ego of demon Kamsa and Charnoor, the Universal Guru.
Make your offering to Sri Krishna ji on this auspicious occasion of Purnima, Seek Blessing and get peda prasad along with Bhagvat Gita Book and Tulsi Mala.
Hurry! Get your Purnima special prasad from Banke Bihari Temple. We will send you a box-full of- 
1. Famous Vrindavan ka "Peda" 
2.Sacred tulsi offered to Thakurji
3.Thakurji's powerful healing Chandan
4.Beautiful picture of Lord Krishna
5. and many other holy offerings to Banke Bihari ji
Click on the Book Now button given above and avail free home delivery. 
Book Now to get  Shri Krishna's Prasad blessing  on the pious day of Purnima along with  Tulsi Mala  and  Bhagvat Gita book (specially from Gita Press).
Click on the Book Now button given above and avail free home delivery. 
History 
Banke Bihari Temple was established by Swami Haridas. Once, during the Mughal conquest, a Hindu priest had a murti of Lord Krishna. Fearing that the murti could get into the hands of the Mughals and be destroyed, he buried the image. After some days, Swami Haridas, a great devotee of Lord Krishna, was passing by through the area where the image of Lord Krishna was buried. Becoming tired, he decided to rest there and soon fell asleep. In a dream, he saw Lord Krishna telling him that his image was buried near where he was sleeping and asked him to start digging. Upon waking, Swami Haridas dug the ground in the area Lord Krishna had indicated and found the image. He then enshrined the image in what is now the Banke Bihari Temple. ng with Bhagvat Gita Book and Tulsi Mala.
---
Recommended for you
---