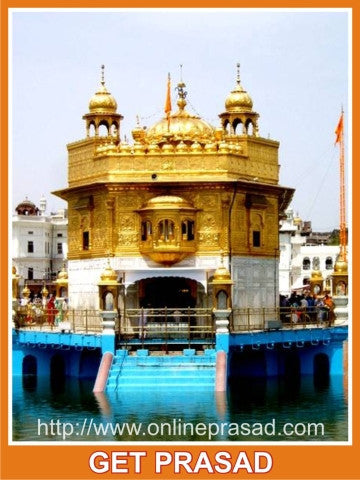 Golden Temple Prasad + Special Ashtadhatu Kada
 With lots of Blessings get Prasad from Shri Harmandir Sahib or Golden Temple, Amritsar, Punjab
Make your offering to Baba ji and show your love to him. You can now make pinni prasad offering at thesacred Golden Temple. 
Along with babaji's blessings you get -
1.  a box-full of the famous 'Pinni' prasad, which is a sweet offered at Golden Temple- 4 packets in total
2. A Locket with Kanga blessed by Babaji
3. Babaji's sacred photo
Book Now to get a powerful Ashtadhatu Kada from the Golden Temple along with Pinni Prasad. 
We will make the offering to Babaji on the day of Guru Nanak Jayanti, on behalf of you and send the Prasad to your home immediately. 
Abou t
The Golden Temple, also known as Sri Darbar Sahib or Sri Harmandir Sahib, is located at Amritsar, Punjab. Harmandir Sahib literally means "The Temple of God". Sikhs from, throughout the world, come to this temple to pay obeisance at the Golden Temple. This temple represents the Sikh community and emphasizes on their motto - "One God for All".
Now, get Prasad from Shri Harmandir Sahib/Golden Temple and seek blessings. We would offer prasad on your behalf at the temple and home delivered it to within 3-4 days. 
About
Golden Temple is the supreme shine of Sikhism. Under the supervision of Baba Budha ji, Guru Ram Das ji, carried out the excavation of the holy tank 'Amritsar or Amrit Sarovar' in 1577. Guru Ram Das Ji is the fourth guru of Sikhism. The Golden Temple was constructed in the middle of this tank. Under the guidance of the fifth Guru, Guru Arjan Dev, the Gurudwara was built. 
Mostly, the Hindu temples are constructed at a higher level than the surrounding area. But a unique fact about Golden Temple is that it is built at a lower level than the ground. Another unique custom here is that it has four entrances instead of the one entrance as in other traditional temples. The four entrances signify that anyone of any caste, creed or religion can enter this temple without any distinction. It also symbolizes the openness towards all. 
Rituals
The typical morning in Harmandir is very traditional. The day begins with morning kirtans by singing Asa di Var. The holy Granth is brought from the Akal Takhat to the Harmandir and placed on the throne in the center of the sanctum. The Granth is then opened and a Hukum is taken to open and read the first composition on the page opened randomly.
The important festivals celebrated with great zeal at the Golden Temple are Vaisakhi or Baisakhi, Guru Nanak Jayanti, Diwali, the martyrdom day of Guru Teg Bahadur and Palki Sahib. 
Baisakhi commemorates the begining of Sikh New Year and the founding of Khalsa Panth. Whearas Palki Sahib is a nightly ceremony. During this ceremony, the Granth Sahib is carried in procession along the bridge to the Akal Takht (seat of Sikh Parliament).
---
Recommended for you
---