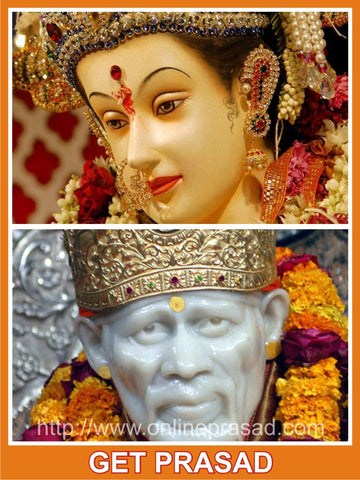 Vaishno Devi + Sai Baba Prasad + Golden Poster + Idol of Durga Ma
Get Special Blessings from Vaishno Devi Temple and Shirdi Sai Baba on Dushehra!
Get special blessings for your family from Vaishno Devi Temple and Shirdi Sai Baba on Dushehra! Dushehra is the celebration of good over evil.
Special Vijay Dashami celebrations in Vaishno Devi will be held to bid final good bye to Mata Rani. Manwhile, Sai baba Sri Punya Tithi celelbrations will be held in Shirdi Sai Dham from 3rd October - 5th October, 2013. 
Make your Prasad offering booking in these two powerful temples and get Prasad at home! 
We will make your special offering to Ma Vaishnavi and Sai Baba and send the Prasad for your whole family.
You will receive two boxes full of - 
Shirdi Sai Nath Prasadam -  Udi Prasadam  Dry sweets Dry fruits Sacred dhaga Pendant Beautiful picture of Sai Baba for your pooja mandir!
Ma Vaishno Devi's Prasad - Panch bhog prasad  Mata ka Sikka  Mata pindi darshan photo  and many pooja items from Vaishno Devi
Book Now to get Ma Durga's shimmering gold poster (framable) along with 24-K gold-plated idol of Ma Durga for your pooja mandir! 
Simply click on the Buy Now button given above and avail free home delivery.
---
Recommended for you
---