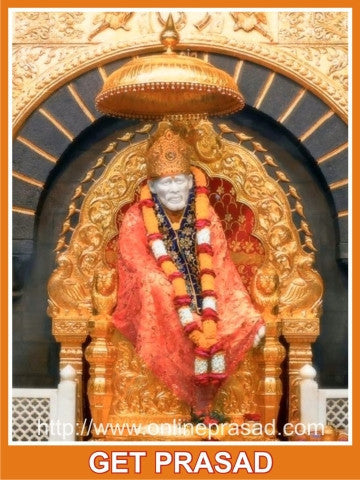 Sai Baba Prasad + Laxmi-Ganesh Silver Coin + Laxmi Ganesh Gold-plated Idol
Sai Baba's Prasadam and Laxmi-Ganesh Silver Coin!
Offer Prasad at Shirdi Sai Nath's darbar and get it at home at no extra home delivery charges. Get a beautiful gold-plated idol of Laxmi-Ganesh and a Pure silver Laxmi-Ganesh ritual coin.
You can seek divine blessings of Sai Nath along with your family during the auspicious month of Karthik. 
We will offer the Prasad on behalf of you and send you a box-full of Prasad from Shridi Sai Baba. 
With lots of blessings from Shiridi Sai Baba you get His miraculous "Udi Prasadam" and -
dry sweets,

dry fruits,

sacred dhaga

and beautiful picture of Sai Baba!
Book Now  to get  Prasad  with  Silver coin and Idol of Laxmi-Ganesh  at home.  FREE home delivery ! 
Get Prasad from Sai baba temple, Shirdi, Maharashtra
Now, you can seek blessings from Sai Baba by offering Prasad at Sai baba temple. We will offer the famous "Udi" Prasad and other sweets at Sai baba temple, Shirdi on your behalf on Diwali and send the prasadam to you and your family immediately.
About
Sai Baba or Sachidanand Sai Guru is a popular saint who lived in Shirdi. He was a Yogi or Guru or Fakir or Saint. People pay their homage to Shirdi Sai by calling him  "Sai Baba." Thousands of devotees visit daily the Sai Baba temple at Shirdi and seek blessings from him.
The real name of Sai Baba is unknown and the
 name "Sai" was given to him upon his arrival at Shirdi, Maharashta.
A local temple priest at Shirdi named Mahalsapati recognized him as a Muslim saint and used to greet him with the words 'Ya Sai!', which means 'Welcome Sai!'. 
Baba always taught to follow the morals of  love, forgiveness, help, charity, contentment, inner peace, and devotion to God and guru.The teachings of Sai Baba are a combined elements of Islam and Hinduism.
He gave the name of "Dwarakamai," a Hindu name to the mosque where used to lived in. The well known epigram of Sai Baba, "Sabka Malik Ek" , meaning "One God Governs all", is associated with the Sufism and Islam. He
practiced both Hindu and muslim rituals and traditions and taught the same to all. After Sai Baba took Samadhi, his body was buried at Shirdi. He is the epitome of equality!
---
Recommended for you
---