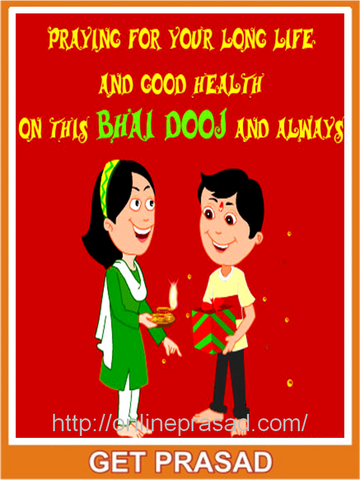 Bhai Dooj Special: Prasad+Laxmi-Ganesh Silver Coin+Gold-plated Idol of Ganesha
The Best Bhai Dooj Gift for your Brother!
Make an awesome beginning (shubh aarambh) to Bhai Dooj this year. On this auspicious occasion of Bhai Dooj make your offering at your favourite temple and get a gold-plated Ganesha idol and Laxmi-Ganesha silver coin for your brother.   
Make this Bhai Dooj super special for your brother. Choose the temple you want to make your offering in and write your name, your brother's name and gotra. We make offerings in temples like Shiridi Sai Baba, Vaishno Devi, Siddhi Vinayak, Kanipakam Vara Siddhi Vinayak, Kolhapur Mahalakshmi Temple, Meenakshi Amman, Salasar Balaji, 4 Dham, Jyotirlingas and Golden Temple.
Make an offering on your brothers' name today. Surprise your brother, he is going to love it! 
We will make offering in the temple you choose and send a box-full of sweets Prasadam particular to the Temple with gold-plated idol of Ganesha and pure Silver Coin. This will be sent to the shipping address you provide us with. 
Bhai Dhuj is a day when sisters pray for their brothers' long life and health. What better way to show your love towards your brother.
Simply click on the Book Now button given above and mention your details.
(Send us your temple of choice with your details at - contact@onlineprasad.com )
Legend 
Once, Yamraja went to meet his sister Yamuna after a long time. When he reached there, she was very happy to see him and put tika on his forehead, performed aarti, and offered him sweets to eat and gave him a small gift as a token of love. She treated him with appetizing meal. Yamraja was so pleased to see the love and care of his sister that he declared that any brother, who receives tilak from his sister on this day, will never be sent to the hell and will live a long life. Since then the custom of celebrating Bhai Dhuj started and this is why it is also known as Yama Dwitiya.
This festival is also known as Bhau-beej.
Book Now to get  gold-plated idol of Ganesha and pure Silver Coin of the immortal brother-sister Laxmi & Ganesh. 
---
Recommended for you
---