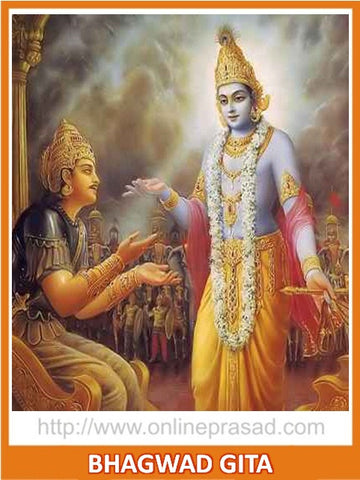 Bhagwad Gita
Bhagwad Gita
The Bhagwad- Gita is considered to be among the greatest spiritual books the world has ever known. Bhagwad Gita is a narration of how the Supreme Lord Krishna describes the science of self-realization, karma and the exact process by which a human being can establish their eternal relationship with God. In terms of pure, spiritual knowledge the Bhagavad- Gita is incomparable. The beauty of Bhagwad Gita is that its knowledge applies to all human beings and does not postulate any sectarian idealogy or secular view. It is appproachable from the sanctified realms of all religions and is glorified as the epitome of all spiritual teachings.
Also offer prasad to Lord Krishna today and get his blessings. Click Here  http://onlineprasad.com/collections/prasad/krishna
Please note that any order below 500 rupees will be levied a shipping charge of INR 50(within India) and International shipping charges for other countries.
---
Recommended for you
---