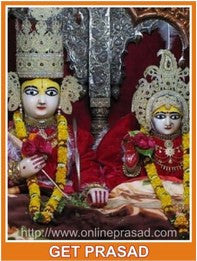 3 Shakti Temples at Ayodhya - Kanak Bhavan, Janki Mahal and Hanuman Garhi
Sri Ram Vivah - 3 Shakti Temples Special Prasad Chadawa!
Get blessings for your family from 3 powerful Shakti Temples!  Make special Prasad Chadawa at Ram durbar during this auspicious days of Marrigae and get Prasad at home! 
Blessed and protected is he who remembers God Ram and worships Him with all his heart and soul! Make your offerings to 3 powerful Shakti Temples and get prasad blessings at home! 
We will make the Prasad offering on behalf of you during this day and send you Prasad for your whole family! 
Hanuman Garhi Prasad, Ayodhya
Janaki Mahal Prasad, Ayodhya 
Ram Mandir Prasad (Kanak Bhawan), Ayodhya 
To get Prasad at home click on the Buy Now button given above. 
OnlinePrasad.com is not a temple representative. We act as your representative to offer & deliver Prasad to your doorstep.
We would offer prasad on your behalf at the above temples & you seek the divine blessings of Lord Rama & Goddess Sita!
To book Prasad Chadawa during Navratri simply click on the Buy Now button given above. 
---