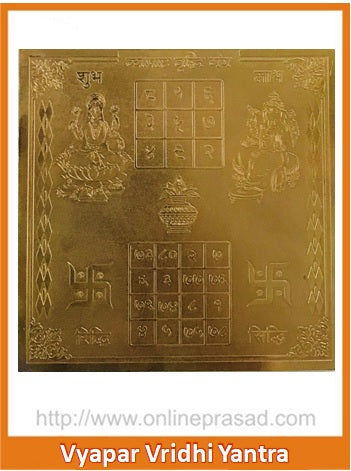 Vyapar Vridhi Maha Yantra (gold-plated)
Vyapar Vvridhi Maha Yantra (gold plated) – for attaining success and prosperity in business, service, ventures or professional life
Vyapar  Vridhi Maha Yantra belongs to Lord Ganesha and Goddess Lakshmi. Lord Ganesha is 'Vigneshwara' (one who removes all the obstacles). Mahalakshmi is 'the Goddess of wealth'. She brings profits and prosperity in the life and business ventures of her devotee. Hence, this Vyapar Vridhi Yantra is recommended for those people who want to amplify their profits, is unemployed or wants to upgrade their current job position.
Bring prosperity and wealth in your professional life. Do Vyapar Vriddhi Yantra Pooja. Free home delivery!
It is best to Keep Yantra after Pran Pratishtha Pooja. 
You can get this Pooja done yourself by your family Pandit. Alternatiely, our experienced Pandits can do this Pooja on your belhalf. And, we will then send this charged Yantra for you. 
Please let us know all your details below - 
Name
Father's name
Sex - Male/Female
Gotra
Nakshatra
Date and time of birth
Place of birth
Benefits of Vyapar Vridhi Maha Yantra
Brings good fortune and reputation in your professional life.

Amplifies your profits and incomes.

Creates a shield of protection against your bad wishers and improves your business transactions.

Bestows wealth, prosperity and happiness in your business/professional life.

Helps you to get a better job position

Helps you to get a job/service if you are willing to get employed.
Note: We give you 100% original Yantra designed by experts.
In case you are not satisfied with the product you may return it to us within 45 days of purchase. No questions will be asked. We will refund your return shipping amount too. 
---
Recommended for you
---