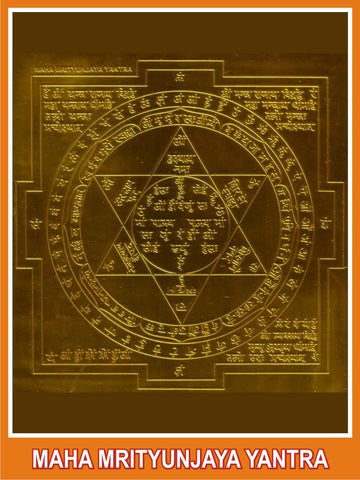 Maha Mrityunjaya Yantra (gold-plated- 6*6)
Get Lord Shiva's blessings and ultimate protection from life threatening events and diseases with
Maha Mrityunjaya Yantra 
Beej Mantra : Om Hoom Om Joom Sah! Bhoorbhuva swaha-  Tryambakam Yajāmahe Sugandhim Pushti-vardhanam Urvā rukamiva Bandhanān Mrityormukshīya Māmritāt . Bhoorbhuva Swarom Joom Sah: Hoom Om.
Maha Mrityunjaya Yantra is one of the most powerful Yantras available to devtees who wish to attain ultimate peace and protection from enemies and untoward events in life. Unnecessary disturbances, mishaps or deadly diseases are all kept at by by praying to this Maha Yantra.
Bring home this 24 carat gold-plated Maha Yantra and free yourself & your family from dangers of life. Receive pooja vidhi along with Yantra. 
Book Now to avail FREE home delivery. 
Benefits of Maha Mrityunjaya Yantra-
1. Removes Shani Dosha 
2. Blesses you with Manokamana Siddhi 
3. Saves you & your family members from deadly diseases and mishaps 
4. Brings peace and tranquility in your mind and environment around you
5. Helps you keep calm and achieve victory
Note: We give you 100% original Yantra designed by experts.
In case you are not satisfied with the product you may return it to us within 45 days of purchase. No questions will be asked. We will refund your return shipping amount too. 
---
Recommended for you
---