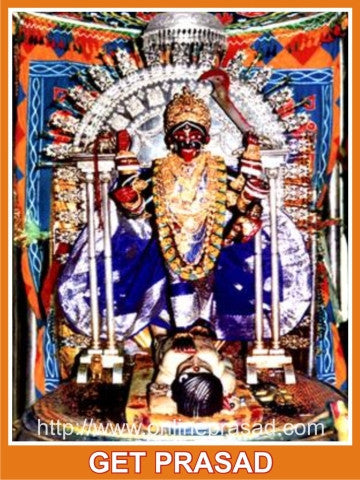 Dakshineshwar Kali Prasad, Kolkata
With lots of Blessings get Prasad from Dakshineshwar Kali Mandir, Dakshineshwar, Kolkata
Dakshineswar Temple is among the most visited temples in Kolkata. Situated on the bank of river Ganga, this temple is dedicated to 'Bhavatarini' a form of Maa Kali. Bhavatarini means 'she who liberates her devotees from the ocean of existence'. This temple is located in the north of Belur Math in Kolkata and was founded by Queen Rasmani of Janbazar.
Now, offer Prasad to Maa Kali Bhavatarini at Dakeshineshwar Kali Mandir and seek her divine blessings for yourself and your family.
We would offer Prasad on your behalf at the temple and home delievered it you within 3-4 days.
About
This magnificent temple was built between 1847 and 1855 by Rani Rashmoni. The three storeyed, 100 feet high temple is composed in traditional 'Nava ratna' style of Bengal architecture.
The main temple houses idol of Maa Bhavatarini, with her foot over Lord Shiva. These idols are placed on a thousand-petal lotus made of silver. 12 identical shrines dedicated to Lord Shiva surround the main temple courtyard.
The saint-philosopher Ramakrishna Paramhansa started his magnificent spiritual journey from this place.
Rituals
Dakshineshwar Temple is most visited during Kali Puja in the month of October. Devotees gather here to pay their homage to the idol of Maa Bhavatarini and feel liberated from worldly worries.
OnlinePrasad.com is not a temple representative. We act as your representative to offer & deliver Prasad to your doorstep. The price of Rs. 501 will be used to buy and offer Prasad at the temple. And, to cover all miscellaneous costs such as -
Packaging,

Professional handling and logistics,

Shipping,

Payment collection, and

Government taxes
Please feel free to give us a missed call at 09933421341 for any questions.
---
Recommended for you
---