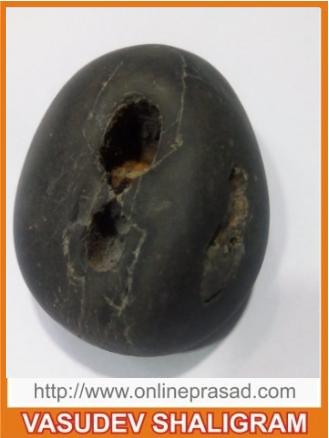 Vasudev Shaligram
Vasudev Shaligram - Rare Stone for Luck and Maha Vishnu's Blessings!
Worship this rare stone from the river beds of Gandaki in Nepal and find total bliss in your personal and professional life. Welcome luck with Maha Vishnu's blessings through this unique Shaligram. 
Shaligram pooja began thousands of years ago when Ma Lakshmi was cursed to live as Vrinda or Tulsi on earth. And, Lord Vishnu decided to live as Shaligram on the banks of river Gandaki. Shaligram derives its name from Lord Vishnu. He is lovingly referred to as Shaligramam in Nepal and hence His divine stone is named as Shaligram.
This particular Vasudev Shaligram is known for blessing the wroshipper with immense luck! Vasudev was Lord Krishna's father and was blessed with the divine power of holding the Lord in His hands and helping Him reach his destination with immense powers from Lord Himself! Worshipping this Shaligram equals worshiping Lord Vishnu's Dasavatar and his father Vasudev too. 
To instal this divine form of Vishnu in your home simply click on the Buy Now button given above. Order now and get the benefit of zero home delivery charge.
Benefits of Vasudev Shaligram
Lord Vishnu will bless your family with good energy and lots of luck
Lord Vishnu will remove all obstacles from your professional and personal life
You will be to achieve prosperity in all phases of your life
You will be able to maintain peace in both your personal and professional life 
---
Recommended for you
---