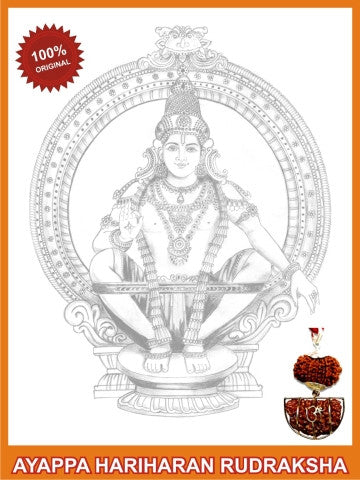 Ayappa Hariharan Rudraksha (with silver capping)
Ayappa Hariharan Rudraksha – Union blessings of 10 Mukhi & 1 Mukhi Hari Hara Rudrakshas (Hari i.e. Vishnu and Hara i.e. Shiva)
Reason to be happy! You get the Ayappa Hariharan Rudraksha from Nepal with silver capping, Lab-test Guarantee Certificate, X-Ray certificate and free home delivery!
We give you 100% original high quality Rudraksha - this is our guarantee! If you are not happy we give you 45 days no questions asked Money-back guarantee! Simply click on the Buy Now button given above and welcome happiness into your life!
It is best to wear Rudraksha after Rudraksha Pooja. 
You can get this Pooja done yourself by your family Pandit. Alternatiely, our experienced Pandits can do this Pooja on your belhalf. And, we will then send this charged Rudraksha for you. 
Please let us know all your details below - 
Name
Father's name
Sex - Male/Female
Gotra
Nakshatra
Date and time of birth
Place of birth
Know more about the Ayappa Hariharan Rudraksha below.
You could also leave your name & phone number with us by clicking here: http://goo.gl/6tMdkU  . We will call you back! 
Ayappan Manikandan or Ayappa Swami is a divine union offspring of Mohini (an incarnation of Vishnu) and Shiva. He is known as 'Hariharasuta', i.e. son of the saviour 'Hari' and the destroyer 'Shiva'. Ayappa is believed to be discovered by King Rajasekara Pandiyan of Pandalam in a forest with a mani (jewel) tied around his kantha (neck). Hence he came to be known as 'Manikanda'. He is worshipped by thousands of devotees around the country and his temple is situated at Sabarimala, Kerela.
This Ayappa Hariharan Rudraksha is a symbolic representation of Ayappan Manikandan with the blessings of both Lord Shiva and Supreme Vishnu. This unique Rudraksha combo is designed in such a way that it represents the yogic sitting posture of Ayappa with 10 Mukhi Rudraksha positioned on the top of 1 Mukhi Rudraksha. While 1 Mukhi Rudraksha is a symbolic representation of Shiva, 10 Mukhi Rudraksha symbolizes Lord Vishnu. Hence this magnificent Rudraksha combo is known as 'Ayappa Hariharan'.
It is said that Ayappa Swamy was an ideal emperor who ruled his kingdom with complete justice and his people have spend a life full of peace and prosperity during his ruling time. He was a kind hearted wise ruler who was very courageous and loved his people immensely.
Wear this Rudraksha to have blessings of Ayappa Swami, Mahadeva and Narayana with you! 
Note: We are giving you original Rudraksha at the best price possible! If you are not happy with the Rudraksha you get, you could send it back to us within 45 days of purchase. No questions will be asked. Your shipping cost will also be reimbursed.
---
Recommended for you
---