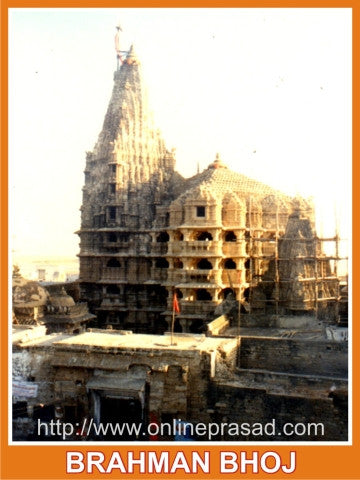 Brahman Bhoj- Dwarka Dham
Perform Pitrupaksh Brahman Bhoj at Krishna ji's Dwarka Dham and get Blessings from Heavens! 
Why Brahman Bhoj?
Brahman Bhoj is of immense importance in Hinduism and is a ritual performed for departed souls of ancestors. Brahman bhoj is done to satisfy the desires of the souls of our ancestors and let them rest in peace.
Brahman Bhoj rituals help cleanse all the sins of our forefathers and liberates their souls. Also, the one performing this ritual is said to gain Punya and is liberated from bad Karmas of past and present life. Brahman Bhoj rituals benefit our ancestors (of 14 generations) even whose death dates have been forgotten. Also, the one conducting Brahman Bhoj is said to gain Moksha!
Feed Brahmins in the sacred land of Dwarka Dham and get blessed by your Forefathers.
To send your prayers and feed brahmins click on the Buy Now button given above. You could choose the date you would like to conduct the Brahman Bhoj, we will do it on behalf of you and send you the report.
Story of Pitrupaksh
Legends say Karna, son of Kunti was a philanthropist. He never denied help to anyone who approached him. He had donated a lot of wealth and had indulged in charity but had not donated food ever. Karna left earth after his death and reached heaven. The great charity which he had done on Earth was returned to him manifold in heaven. But it was all material wealth and there was no food. He then realized that although he had done all kinds of charities, he did not donate food. 
He prayed to the God of Death, who sent him back to earth for 14 days, to make up for this deficiency. Karna fed the Brahmins and poor and offered oblations of water during the 14 days, which is observed in the Mahalaya Paksha or commonly called Pitrupaksha . On his return to Heaven, he had plenty of food and it has been anticipated that offerings made during the period of Pitru Paksha benefits all the departed souls, whether they are connected to you or not.
ll Om Bhur Bhuvah Svah
Tat Savitur Varennyam 
Bhargo Devasya Dhiimahi
Dhiyo Yo Nah Pracodayaat ll
Brahmins are associated with the performance of all the Vedic rituals. It is said that Brahmins have taken birth from the mouth of Lord Brahma. They are highly knowledgeable about Vedic texts. 
It is sai that that unless a Brahmin prays to the Gods through chants, God cannot come and attend the puja rituals of men. Hence, donating or feeding Brahmins is considered very fruitful.
Brahman Bhoj
Brahm (for brahim) bhoj (for feast) is a unique rituals of feeding Brahmins. It is considered highly auspicious. Brahman Bhoj is practiced on diverse occasions such as child's birth, upanayana(the sacred thread ceremony, pitrupaksh, marriage and even Death.
The purpose of Brahm-bhoj is to get their blessings, gain punya and satisfy the souls of forefathers. 
Brahman Bhoj at Dwarka
Dwarka derived from the Hindi word 'Dwar' meaning gate. Dwarka is one of the seven Hindu holy pilgrimages in India. It is one of the Char Dhams along with Rameshwaram, Badrinath and Puri. It is said that this city was built by Vishvakarma on the order of Lord Krishna. This city houses the very famous temple of Lord Krishna, named 'Dwarkadisha'.
Now, perform Brahman Bhoj at this very holy abode of Lord Krishna 'Dwarka' and seek peace and moksha (soul liberation) for your ancestors. 
---
Recommended for you
---