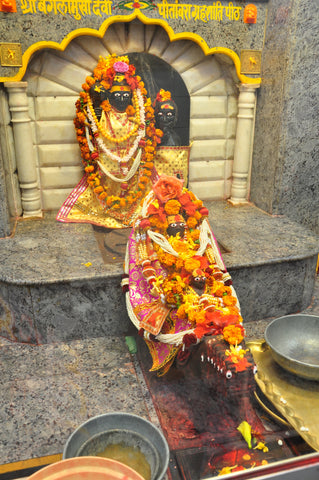 Bagalamukhi Devi Puja
Bagalamukhi Devi
Bagalamukhi Devi is the goddess who has occult powers and also known as the adi shakti as she is the creator of this world.
People worship Bagalamukhi Maa to stop the harm from their enemies. She has that power which avoids all the bad situations happening with the person. 
Top Benefits of Bagamukhi Devi Puja
Worshipping Maa Bagalamukhi solves all the problems. No enemy will then harm a person in any condition.

Relief by offering Puja to Devi Bagalamukhi in all its bad events, incidents, and accidents. She has the power which destroys all the bad intentions of enemy against you.

Her power acts as the turning behaviour for your enemy which Makes him your friend and destroys all evils.

She is worshipped to get victory against enemies, victory in all other cases.

Her great power turns all the things opposite to it as bad to good and negative intensions to positive intensions.

All the bad effect of black Magic is removed through her great power which saves you in all issues. Her powers read the enemy's intellect and turn it into a good thought which make him friendlier with you. Her power play a great role in getting victory from all the legal problems.

Significant materialistic benefits
The puja will be performed at Navagraha temple in Khargaon, Madhya Pradesh by our priest.
---
Recommended for you
---