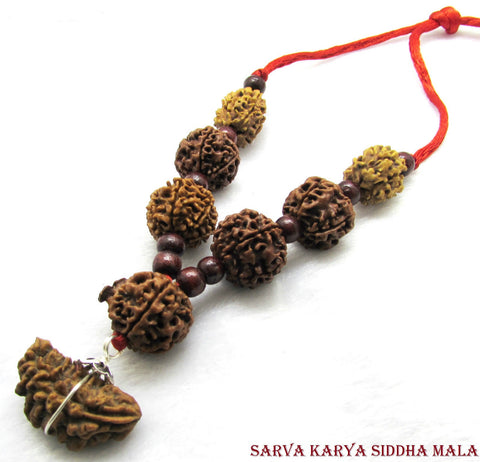 Sarva Karya Siddha Mala / 1 to 7 Mukhi & Ganesha Rudraksha Siddha Mala
Configuration

1,2 and 3 Mukhi Rudraksha : India Origin
4,5,6,7 Mukhi and Ganesha Rudraksha : Nepal Origin
Design : All beads are strung together in red thread and red sandal wood between them.

Sarva Karya Siddha Mala is combination of 1 to 7 Mukhi & Ganesha Rudraksha

It is very useful combination offering several powers to the wearer. Wearing Sarva Karya Siddha Mala bring success, name & fame and a highly vibrant personality. It enhance attracting power , money , wisdom ,knowledge , wealth, prosperity , comfortable & happy home , health , spiritual aura . sarv karya siddhi mala protects from evil effects, bad habits ,accidents misfortunes also encourage against enemy.

---
Recommended for you
---